FamilyLife Today
Family is the greatest untapped resource for bringing good to the world—but healthy families don't just "happen."  FamilyLife is passionate about helping families pursue the relationships that matter most.  Hosted by Dave and Ann Wilson, the daily FamilyLife Today® program offers practical help and biblical hope for the challenges facing today's families.  The interview format provides a setting that is candid, honest, and entertaining too!
Transition Update:
Download new artwork >>
Take a listen
News
Program Tool Kit
Download artwork, scripted promos, and more on Dropbox 
As of JULY 1, representation of FamilyLife will be provided by RK MEDIA.  Please check their website and look for details from RK for future promo packets and any resource materials.
Station Comments
"Dave and Ann Wilson have spent a lifetime talking to couples, talking to families, talking to Christians, just plain talking to people about the power of Christ's presence in a marriage and a family. That wisdom has found its rightful home in the new version of FamilyLife Today®. They're lively and entertaining, of course, and speak grace and love on the program every day." — Chris MacCourtney, GM of WLQV (Detroit, MI)
Contact Us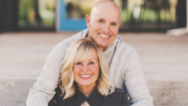 About
FamilyLife's mission is to effectively develop godly marriages and families who change the world one home at a time. Since 1976, millions of people have attended their conferences, and even more have utilized FamilyLife's other resources and radio programs to help them lead godly lives. FamilyLife is proud to be a part of the Cru family of ministries. Learn more at familylife.com.
Connect
Program Contact
Where it Airs
More From This Ministry
Dennis Rainey responds with practical, godly wisdom in a daily 1:30 feature designed to help make families strong.
This 28:00 weekend program is hosted by Michelle Hill and features marriage and family experts like Ron Deal, Dave and Ann Wilson and others.

Ron Deal delivers a daily word of encouragement in a daily 1:00 feature for those in stepfamilies and those who know them—which is a whole lot of us today.