"The stream of tweets kept coming. And I kept thinking about how each of them was written by a person just like you, someone created in the image of God who had experienced a horrible wrong done against them." — Bob Lepine
I subscribe to FamilyLife's e-newsletter, Help & Hope.  This weekly email keeps me posted on all facets of the ministry–from the various outreaches to the daily broadcast.  What I appreciate most about this newsletter are the articles from experts who have been in the trenches.  But as I opened up my copy of this email today and scanned the topics, this one was slightly different: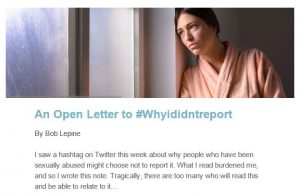 It was already so troubling to read the countless #MeToo posts this past summer, and now #whyididntreport?  Honestly, it's hard to believe that even today many victims are not reporting abuse.  Thirty to fifty years ago, it was even more difficult.  I know because as Bob Lepine predicts in this article, I'm one of the many who can relate.  Why didn't I report it?  The first time it happened I was only 3-1/2 years old and frightened the neighbor's son would hurt me again. The second time, I was 19 when I was sexually harassed on the job–one I didn't want to lose.
Admittedly, Bob Lepine's post first made my heart ache.  But, once I began reading it I found it to be a refreshing and encouraging reminder of the redemptive power available to any victim of abuse who puts their hope in Christ.  So grateful to be a child of God's today and healed from those experiences.  Bob (and FamilyLife) wants the same for other women.
He leaves his readers with this truth …
The sorrow can last for a long night, but God's promise is that a day of joy is ahead. As you bring your grief to God, the afflictions you have experienced will produce in you an eternal weight of glory beyond all comparison.

My hope is that you will not allow the pain you've endured for years to turn into bitterness or despair or hopelessness. The same evil that was behind the abuse you experienced is now at work to pick at your scars and infect them with anger and rage that could ultimately destroy you. Resist him. Shield yourself with faith.
It's likely you have listeners in your audience who would benefit from reading Bob's article.  I encourage you to share it on-air or online.
Now here's a look at more ministry coming from "FamilyLife Today" in October.
On Pills and Needles – guest Rick Van Warner describes what it's like to live and love an opioid addict.  Airing 10/1-3.
Grieving a Suicide – author Albert Hsu shares about his father's suicide and the effects that complicated loss had on their family.  Airing 10/4-5.
Brave is the New Beautiful – guest Lee Wolfe Blum recalls her eating disorder as a youth and the redemptive healing she experienced being radically loved by God.  Airing 10/11-12.
You'll see these are tough topics of discussion, but we promise there's more help and hope to be gained by tuning in.  For the complete list of programming this month, download the Program Tool Kit today.  And for daily help and hope, visit FamilyLife.com.