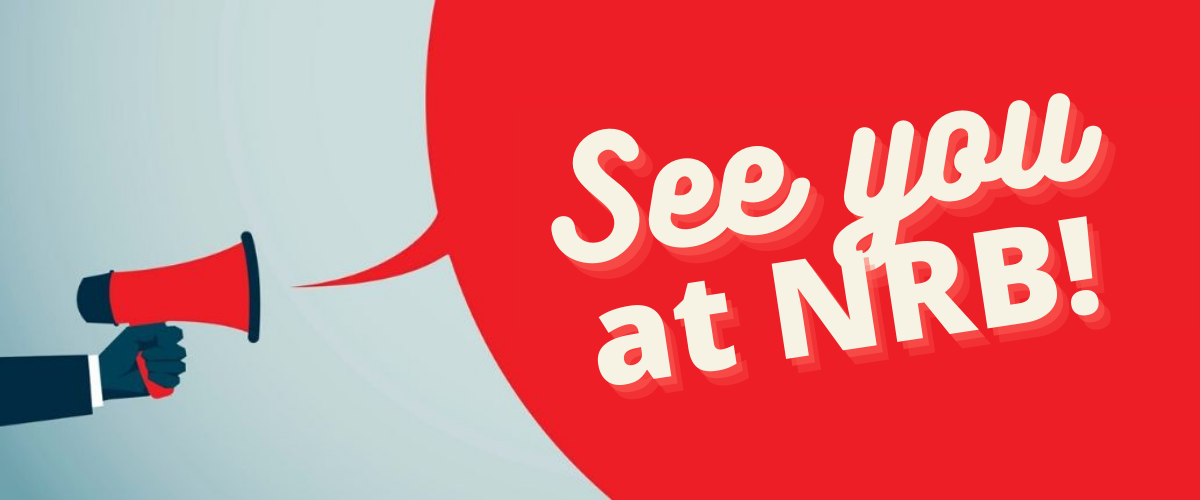 Special Sessions
Special sessions planned for station partners with these speakers: 
And … fellowship with these speakers and ministry teams:
Steve Douglass / Making Your Life Count
Brad Mattes / Life Issues
Charles Morris / Haven Ministries
David Robbins / FamilyLife Today
John Sorensen / Share Life Today
Grace to You
Revive Our Hearts
Please let Peg@ambaa.com know you're coming so we can be ready with your special "thanks for coming"!
Here's your "don't miss" list …
Hearing Darrell Harrison (Dean of Social Media at Grace to You and popular podcaster—"Just Thinking") who joins the panel for "Engaging an Anti-Christian Culture"
Rejoicing in news from sponsoring organization, Mercy Ships, as The Global Mercy sails into ministry service this year
Be encouraged by Adriel Sanchez ("Core Christianity") during devotions at NRB's Board of Directors meeting Tuesday afternoon
Our Congratulations to …
Bob Lepine (FamilyLife Today) — NRB Hall of Fame Award
Focus on the Family — Best Digital Campaign ("See Life") and Most Innovative Digital Method ("Average Boy")
Interviews
Look Who's Talking
If you're coming to NRB and hope to interview some of the most insightful communicators and topic experts we know, may we suggest:
Average Boys
They really aren't 🙂 but they're the voices of Focus on the Family's award-winning podcast by that name.  Talk to Bob Smiley and Jesse Florea about how this popular podcast is helping kids 8-12 learn about God.
Steve Douglass
The President Emeritus of Cru (who started out as an MIT and Harvard grad) has written widely on the Christian life, urging believers to maximize their each day  for Kingdom impact–"Making Your Life Count"!
Jim Garlow
With the mission to bring biblical principles of governance to government leaders, Jim has met with heads of state in places like the United Nations, Washington DC, Jerusalem and more.  Get an insider's view on the global "state of affairs" from someone who knows the latest.
Darrell Harrison
Dean of Social Media at "Grace to You," Darrell is a popular podcaster ("Just Thinking") who regularly speaks on cultural, political, social and theological issues thru a biblically orthodox worldview.
Ron Hutchcraft
Popular speaker for "A Word With You," Ron's latest work springs out of his personal life, writing "Hope When Your Heart Is Breaking" after the death of his wife.
Brad Mattes
A landmark ruling by the Supreme Court that will impact the pro-life agenda for our future is looming.  Get the in-depth and timely perspective listeners will want to know from President of Life Issues Institute.
Barry Meguiar
The energetic "Car Guy" continues to provide infectious encouragement for Christians, igniting believers to "move everyone, every day, closer to Jesus" in our everyday lives through a daily radio feature and weekly TV show.
Charles Morris
Under his leadership, Haven Ministries has established its focus—"it's all about Jesus!"  This former journalist has made the daily broadcast ("Haven Today") a popluar platform for equipping believers with encouragement and insight into the issues of our contemporary culture.
Adriel Sanchez
Local pastor for North Park Presbyterian Church, Adriel is heard LIVE daily on "Core Christianity," answering a wide variety of questions about the Bible and our Christian faith.  Compassion but clearly biblical, Adriel's theological depth matched with winsome style has made the broadcast a favorite.
John Sorensen
As president of Evangelism Explosion (and a product of its outreach many years ago), the message is consistently clear … as believers we ought to be ready to share our faith.  John provides insights on how to do just that, without fear!
Contact Peg@ambaa.com and we'll be delighted to help coordinate a connection at NRB!
Connect
Representing Ambassador and Amb-OS at NRB …
Connect with our team attending NRB for meeting set-ups and more: Dick Becvar, Michelle Blood, Katie Burke, Lee Ann Jackson, Charley Mefferd, Jennifer Perez, Rebecca Richardson, Jim Sanders