Strong marriages don't just happen. They are created over time by intentional effort of the couple. Like the painter's masterpiece, building a healthy marriage requires skill, creativity, endurance, and a working knowledge of the canvas, brush, and paint.
-Ron Deal, Executive Director of FamilyLife Blended
Last week we traveled back east to attend the wedding of our beautiful niece. It was a simple, yet elegant, family affair with the ceremony performed by the groom's 87-year old grandfather. It was like no other wedding we've attended before. While the brief sermon message talked about God's love and the marriage covenant, it also included some sage advice for the couple. At one point the minister even sang a few lines from a hymn-and very well, I might add.
The highlight of the ceremony though came when the grandfather lovingly spoke to the bride's 5-year old daughter about her important role in this union. There wasn't a dry eye in the house, especially at the end when she hugged his legs.
As Ron Deal says, strong marriages are created over time by intentional effort. That is all the more important when a single mom (or dad) marries. Having journeyed down that road myself, I couldn't agree more and it's my prayer this new blended family will see the value in living out that same principle.
Now, will you be intentional about ministering to these families? According to statistics, approximately one-third of all weddings in America today form stepfamilies. With June and September ranking as the most popular months for these events, it's time to bring help and hope to couples like my niece and her new husband. If you don't already air Ron Deal's :60 short feature, "FamilyLife Blended," I invite you to consider it. Contact me today for more details, including customization available with Amb-OS delivery.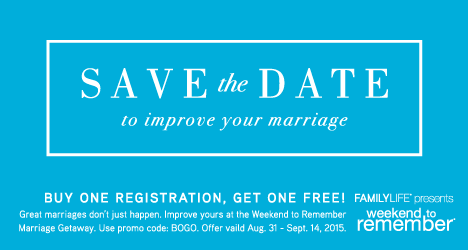 Another way you can help blended families is by telling them about the Weekend to Remember® getaway. There's no better way to start a marriage then with the biblical blueprints for God's design. Step-couples attending will find the conference manuals now include projects created just for them. The Weekend to Remember® season kicks off September 11 and for a limited time (now thru 9/14), couples can save 50% when registering just by using the BOGO code.
Next week, I'm headed to Orlando for CMB's Momentum conference (with Katie Burke). Are you? If so, be sure to stop by FamilyLife's booth where you can learn more about the blended short feature and what's ahead for their weekend program. You can even pick up a box of Ambassador white chocolate just for completing a Weekend to Remember® survey. Hope to see you there!
Blessings!
Michelle Blood
Ambassador: We Connect. Ministry & Media.