There's just something so special about the Christmas season…joy is spread, fellowship is frequent, and the Christmas story is prominent.
We get to celebrate and honor the birth of our mighty Savior, spend time with family and friends, and eat really yummy food.
Not only that, but there seems to be greater opportunity to get gifts for those who won't otherwise receive any, serve meals to the homeless, or even invite those without family to our own intimate gatherings.
If we're intentional with the Christmas season, we can really turn it into something great…something that's beyond our needs, our desires, and our happiness.
But what if this "something great" extended beyond the holiday season and into our homes each and every day of the year?
Pastor Carter Conlon asks just that in his brand-new 28:00 Christmas special.
As he reflects on this glorious season through both music and message, listeners are reminded of the power of Christ and encouraged to call this power into action 365 days a year!
This special is interspersed with Scripture, stirring stories from his past, and a beautiful array of songs (both written and performed by Pastor Carter). The fireside may be virtual, but the holiday delight is genuine.
Bless your listeners this holiday season by reminding them that Christmas doesn't have to end as we head into the New Year.  Our joy, fellowship, generosity, and–most significantly–the Christmas story can and should infiltrate all of our days and seasons.
FOR NEW YEAR'S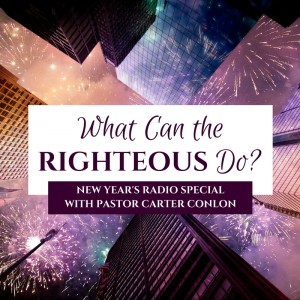 "What Can the Righteous Do?" (25:00)
Teaching from Mark 8, Pastor Carter recalls the story of Jesus leading a blind man out of a town called Bethsaida, a town that–over the course of history–had lost its purpose and its understanding of the power of God. He calls each of us to courageously face our fears, obey the hand of God in our lives, and have a heart of humility that asks, "God, do you need to open my eyes to see what I need to see?"
To audition these programs and/or confirm placement, contact Haley Jessup — and be sure to ask about our ready-to-use social media and web graphics!
Haley Jessup
Ambassador: We Connect. Ministry and Media.