Anne Graham Lotz presents a weekly 24:55 program calling listeners to live in the light of God's Word. Her challenge is to not only embrace the God-filled life, but to walk with eyes fixed on Jesus!
Program Tool Kit
Download artwork, program titles, and more on Dropbox
Station Comments
"I am so thankful that Anne talks not only about God but about Jesus.  There is no doubt where that daily light comes from.  Keep talking about Jesus, Anne!"
– Gary Miller (Operations Manager), WLFJ-AM (Greenville SC)
Contact Us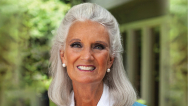 AnGeL Ministries is committed to sharing messages of Biblical exposition so that God's Word is personal and relevant to ordinary people. The ministry's name is derived from the initials of Anne Graham Lotz (AGL) and is especially fitting as angels are messengers of God who go wherever He sends, speak to whomever He directs, and faithfully deliver His Word.  Learn more at annegrahamlotz.org
Connect
Program Contact
Where it Airs
More From This Ministry

Anne Graham Lotz shares a Scripture verse and gives insight for personal application in her daily 1:00 feature.