Joni Y Amigos
Joni Eareckson Tada brings the good news of Jesus to hurting people in her daily 1-minute feature.  Her life and testimony as a woman changed by disability and saved by a relationship with Jesus offers a unique platform for inspiration.
Take a listen
News
Program Tool Kit
Download artwork, scripted promos, and more on Dropbox
Contact Us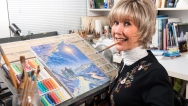 Joni and Friends is a ministry dedicated to communicate the Gospel and equip Christ-honoring Churches worldwide to evangelize and disciple people affected by disabilities. They answer the call in the Gospel of Luke 14, "invite the poor, the crippled, the lame, the blind and you will be blessed…make them come in so my house will be full. Learn more at joniadfriends.org and the Spanish page on their website.
Connect
Program Contact
Where it Airs
More From This Ministry