Making Your Life Count
Steve Douglass' daily features (both the 1:00 and 2:00 versions) contain a two-fold impact — listeners discover how to live a life transformed by Christ, while also hearing examples of how they can make a difference in the lives of others!
Having "fought the good fight," complications from his battle with cancer resulted in Steve's homegoing on October 29 (2022).  His legacy is felt in many arenas including that of his family—wife, Judy, three adult children and ten grandchildren. And, of course, in the continued message of "Making Your Life Count" in his voice.
Take a listen
Happy 70th Birthday Cru!
Seventy years ago, a rancher turned candy salesman had a life-changing encounter that led to two lives surrendered to God and a vision. Those two lives were Bill and Vonette Bright, and that vision would eventually become the ministry of Cru®.
Click here to learn about the history of Cru >>
Hear the first-ever recording of Bill Bright — a historic audio clip from KFWB that was recorded in Los Angeles in 1948.
Listen: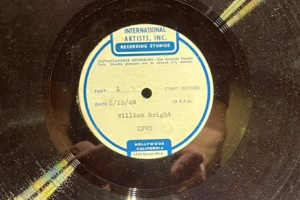 Program Tool Kit
Download artwork, program titles, and more on Dropbox
Station Comments
"'Making Your Life Count' presents many well-known Christians expressing their real life experiences as followers of Christ in this often challenging world.  This well-produced feature is an encouragement and blessing to our listeners and I'm grateful for it as it lines up nicely with our vision here at The Light." —Sean Troland, General Manager at The Light Radio Network
Contact Us
Cru helps to fulfill the Great Commission in the power of the Holy Spirit by winning people to faith in Jesus Christ, building them in their faith and sending them to win and build others and helping the body of Christ to do evangelism and discipleship through a variety of creative ways. Learn more at makingyourlifecount.org.
Connect
Program Contact
Where it Airs