A Word With You®
For more than four decades, Ron Hutchcraft has provided inspiration for audiences, using captivating illustrations and biblical insights in a popular daily 4:30 feature.
Take a listen
Program Tool Kit
Download artwork, program titles, and more on Dropbox
Station Comments
We love Ron's great storytelling combined with a powerful point!! We have early morning listeners who really enjoy hearing it as they are doing paper routes, caring for farm animals, starting their morning commute, etc… and those who are finishing up a night shift and heading home. We even have listeners who write asking for a transcript or how they can share what Ron said that day with a friend. It's great!!
— Carolyn Simmons, Program Director of KROA-FM
Contact Us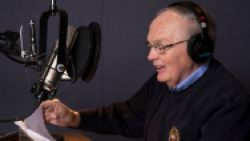 About
"A Word With You®" is the broadcast outreach of Ron Hutchcraft Ministries (RHM) whose core objective is to "bring the lost to the cross."  In addition to radio, RHM ministries include "On Eagle's Wings" (which is also dedicated to bringing the hope of Christ to Native America) and "A Life that Matters," a 13-week Bible study series.
One Family, One Heart, One Mission
(An Introduction to Ron Hutchcraft Ministries)
Connect
Program Contact
Where it Airs