I got this recipe from a food blog and have been hanging on to it for several months because I love coconut and knew I wanted to make it sometime.  We had a luncheon at work recently and it was a perfect time to try out this new recipe!  Since we all loved it, thought you might want to try it too!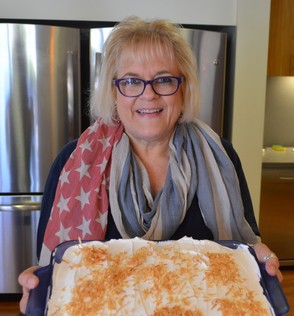 Coconut Poppy Seed Cake
Serves 20-24
1 package white cake mix
½ cup flaked coconut
¼ cup poppy seeds
3 ½ cups cold milk
1 teaspoon coconut extract
2 packages (3.4 ounces each) instant vanilla pudding mix
1 carton (8 ounces) frozen whipped topping, thawed
1/3 cup flaked coconut, toasted
Prepare cake according to package directions, adding coconut and poppy seeds to batter.
Pour into a greased 9 x 13 baking pan.  Bake at 350° for 20-25 minutes or until a toothpick inserted near the center comes out clean.  Cool completely.
In a large bowl, whisk the milk, extract and pudding mixes for 2 minutes.  Let stand for 2 minutes or until soft-set.  Spread over the cake.  Spread with whipped topping and sprinkle toasted coconut on the top.
Enjoy!
Jani Williamson
Ambassador: We Connect.  Ministry and Media.