Fifty-five years ago, Mary Poppins was dazzling theatergoers with a mix of whimsical music, animated characters combined with live-action, a spoonful of medicinal laughter and magical wisdom from a mysterious nanny.  Who would have thought that a cheeky babysitter could have such an impact on a dysfunctional family . . . and on those of us who watched too!
When it debuted, Mary Poppins widely received both popular and critical acclaim.  The movie was recognized with a total of 13 Academy Awards nominations (which was a record for Walt Disney Studios).  It even received a nomination for Best Picture.  Of the 13 nods, it took home five Oscars:  Best Actress for Julie Andrews, Best Film Editing, Best Original Music Score, Best Visual Effects, and Best Original Song for "Chim Chim Cher-ee".
Back then, one song particularly captured my attention.  It was "Supercalifragilisticexpialidocious."
Remember?
It's Supercalifragilisticexpialidocious!
Even though the sound of it
Is something quite atrocious
If you say it loud enough
You'll always sound precocious
Supercalifragilisticexpialidocious!
Believe it or not, and to my surprise, "supercalifragilisticexpialidocious" wasn't created for Mary Poppins.  The word was first used in 1931 when the writer defined the term as, "All that is grand, great, glorious, splendid, superb, and wonderful." Sounds right to me!
As lengthy as "supercalifragilisticexpialidocious" may be (34 letters), there are at least four "real" words which are longer.  Here they are in ascending order:
#4 Pneumonoultramicroscopicsilicovolcanoconiosis (45 letters) is right in front of our Mary Poppins word.  It's also an artificial term, reputed to be the longest word in a major dictionary.  It's understood to refer to a lung disease caused by inhaling very fine ash and sand dust.
#3 Number three is the longest word ever to appear in literature.  Its 182 letters long: Lopadotemachoselachogaleokranioleipsanodrimhypotrimmatosilphioparaomelitokatakechymenokichlepikossyphophattoperisteralektryonoptekephalliokigklopeleiolagoiosiraiobaphetraganopterygon.  What are the odds that I had a childhood friend, and that was his nickname?!  His mother dreaded calling him in for lunch.  It took 10 minutes.
#2 The second-longest term is 1,909 letters long and has the distinction of being the longest published word.  Here's an idea of what it looks like:  Methionylglutaminylarginyltyrosylglutamyl…serine.  Basically, you need a PhD in chemistry to pronounce the word.  But then again, why would you?
#1 Wikipedia reports that the longest word in the English language is made up of 189,819 letters.  Printed out, that would be about 40 pages of solid text.  The start of the word looks like this: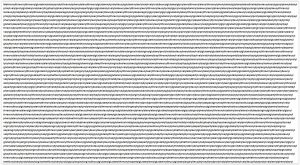 It's basically an optometrist's chart.  Put one hand over your left eye and give it a shot.
Now the point of all these lengthy word machinations is this:  You'd think a longer word would carry a larger meaning or importance, but it doesn't.  In fact, there's no correlation between word length and significance.  It doesn't matter how long a word is… it only matters what it means.  What it communicates to someone.  How it carries a feeling or a thought or a sentiment or a description.  That's the beauty of the English language!
The most profound and difficult to describe elements in life are often carried by the shortest words.  Words like:
Love
Grace
Forgiveness
Life
Death
Redemption
Gospel
Salvation
Thousands of books longer than a mere 189,819 letters have been written about each of those subjects.  And so many more!  Even though short, they encapsulate the powerfully complex parts of the Christian life.
It's not the words themselves which are important.  It's the undeserving gifts they represent.  Gifts God has given his children without deserving a single one.  Not a sentence.  Not even a letter.
That's what Haven Today with Charles Morris is all about.  We look at everyday life through the "Jesus lens."  The simple words, the long words…they both point back to the life-changing message of the gospel which, dare I say it, is "Supercalifragilisticexpialidocious."