We've been back from NRB for a few days now and I'm still reflecting on one of my biggest highlights—time with Pastor Carter Conlon and the Times Square Church team.
One of the most inspiring things about Pastor Carter is that his passion for calling the nation to serious prayer is not just an idea or a concept—it's a burden that the Lord has placed on his heart. A burden that influences his every encounter.
And, at NRB, I got to see this call on his life in action as he ministers to and prays for station partners like you! There is nothing more special than to have our ministry and station partners connect, and to do so in such a God-honoring and Spirit-filled way.
Here are just a few of the many quotes I was able to jot down during some of our meetings:
 "We want revival without personal cost."
"To give someone a reason to live, you've got to give them a reason to die."
"… whatever it takes for God to get a hold of us."
"The cry is in the people, just not in the church."
"It's time to pray … it's not a concept, it's an actual call."
"Prayerlessness is ultimately pride ridden."
"We know a lot about God, but we need to meet with God."
What a privilege it is to serve alongside Times Square Church and partner with you in sharing what's on Pastor Carter's heart with listeners nationwide!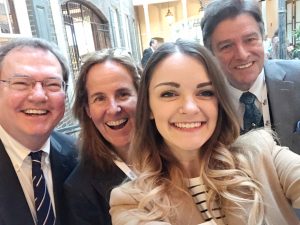 P.S.: Have you signed up to air Pastor Carter's new specials for Easter and National Day of Prayer? Click here for more info and contact me for sign up and questions!