"Gratitude is a mindful awareness of the benefits of life." –Max Lucado
You can hardly hear or read Max Lucado's work without sensing his deep thankfulness and fear of God.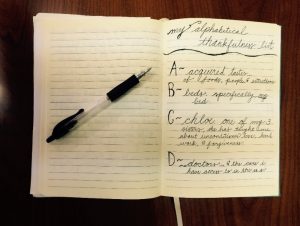 During my first fall after college, Max released a book on prayer called Before Amen.  In one chapter, he shared his wife Denalyn's idea to "alphabetize your blessings.  Rather than catalog burdens, itemize benefits."
Reading Max's list inspired me to make it my own tradition to "alphabetize my blessings" every Thanksgiving!  What I've found over these three years is the more that I express gratitude, the more I find to be grateful for!
In his recent UpWords series on "Anxious for Nothing," Max highlights gratitude as an antidote for anxiety.
He says:
"Gratitude improves self-esteem and enhances relationships, quality of sleep, and longevity.  If it came in pill form, gratitude would be deemed the miracle cure.  It's no wonder that God's anxiety therapy includes a large, delightful dollop of gratitude."
You might know someone who is overcome with anxiety, and needs to hear these messages.  These six programs would be a great place for them to start:
As we prepare for Thanksgiving, check out this Thanksgiving Tool Kit, for blogs and PSAs from Max, plus graphics and more for your social media use.  (I also included a couple of my favorites from Max's Twitter page below!)
"Give thanks to the Lord, for He is good; His love endures forever." 
–1 Chronicles 16:34