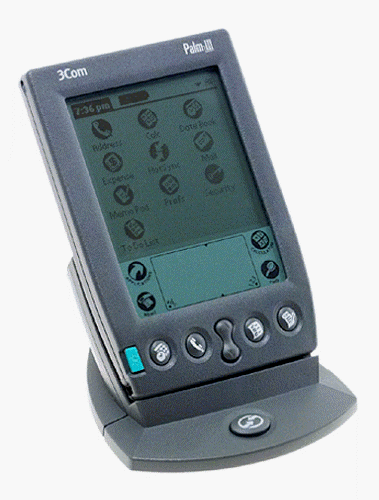 I love gadgets.  And one of my all-time favorites was the Palm III by 3Com back in the late 90's (left).
It was a wonder of the modern world.  Just astounding!  This little touchscreen device could hold my entire datebook, calendar, contacts and memos to my heart's content.  It recognized my handwriting and stored endless notes.  It was a TV remote one minute and a Personal Data Assistant the next.  It easily synced to my desktop and could store receipts while I was on the road.  I practically wore out the calculator.
One of its slickest features utilized the infrared (IR) port on the back of the device.  You could use it to play games (like Battleship) with other Palm III users.  The geekiest white hat software hackers let you program it as a TV remote.
But the best feature of the device was the ability to "send a business card."  You'd create your personal contact information, flag it as your business card, and then transmit it electronically to other Palm users through the IR port.  One click and "poof!"  You could even do so to more than one Palm device at a time.  It was SO much easier, and handier, than having to carry printed cards.
There was great hope in that day that the Palm III was signaling the end of the paper trail, though that promise remains just out of our reach even still, these 20 years later.
During one particularly boring meeting, I was showing my friend how to ethereally send his business card from his Palm.  It worked perfect.  I scrolled down to verify I'd received all the information, only to realize his Personal Contact record ("business card") included just a bit more information than he wanted to send.
What I got was every checking and savings account number, pin to each account and ATM, bank addresses, passwords, social security numbers, and credit card numbers with the CVC and expiration date.  Everything.
I remember, for about 20 seconds, he was wrongly impressed by his ability to electronically send his business card.  I was a bit less enthusiastic.  And so was he when he looked at my Palm III!  We quickly fixed the problem by deleting his business card, much to his relief.  But little did we realize that his data breach was a small harbinger of things to come.
Data breeches seem to be common, everyday life, unfortunately.  I think we've become numb to the problem.  Who would be surprised at all if the news leaked the hack of another 200 or 500 million records?!   Most likely you've been affected.  I know I have.  Do you remember these?  Equifax (143 million), Yahoo (500 million), Myspace (360 million – who knew Myspace still existed?), and the list goes on.
Quite literally, the list WILL go on.  It WILL happen again.
As for me and my house, we have shut off all access to our credit.  Equifax, Transunion and Experian all offer the means to do so.  While it's a pain to turn on and off your credit access, most security experts say it's the safest way to go.
The thought of someone knowing everything about you is more than a little creepy.
We talk around here that our online lives are more like a postcard than a letter in a sealed confidential envelope.
Now, if that's true for our data, how much more true for our lives laid before our God?  I wonder how differently we'd live if we were as conscious about our father in heaven tracking every move we make.  Every invasive thought not taken captive.  Every hurtful word uttered in acerbic haste.
It could actually be depressing.
Thankfully, we're promised that even though we continue in sin, God has removed the penalty for those sins as far as the east is from the west.  He's buried them in the Mariana Trench.  Then the Father, as D.L. Moody said, "Posts a 'No Fishing' sign over the spot."
Bad enough if your life is circulated on a postcard. How about the apostle Paul, whose life has been meticulously studied.  His sinful past a testimony to the power of a changed life.  I'm sure his PDA would have included this passage from Romans 7:
"I am of flesh, sold into bondage to sin.  For what I am doing, I do not understand; for I am not practicing what I would like to do, but I am doing the very thing I hate. …For the good that I want, I do not do, but I practice the very evil that I do not want."
He punctuates our struggle:
"Thanks be to God through Jesus Christ our Lord!"
To that I say "AMEN!"  As Charles Morris often says, it's all about Jesus!!