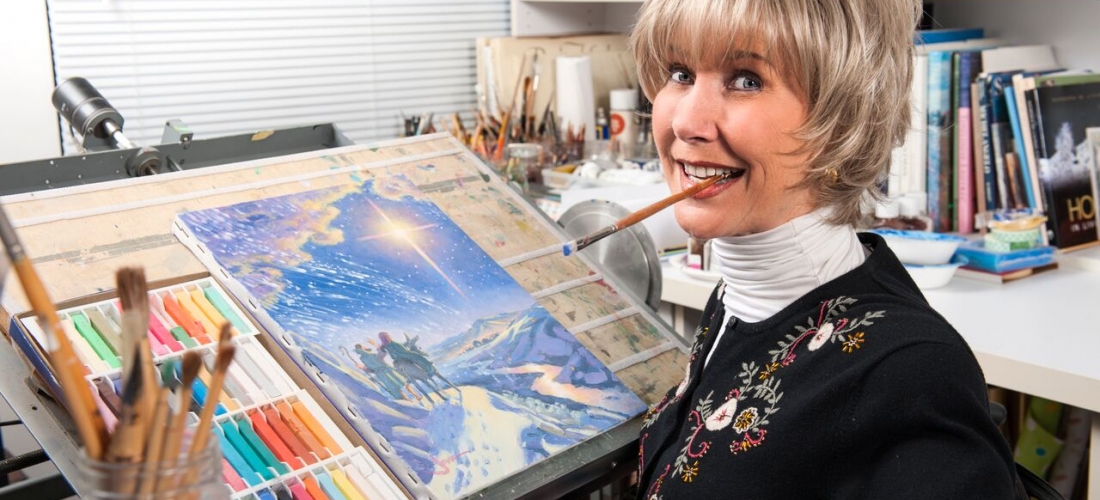 Joni Eareckson Tada
Just the name, "Joni" evokes admiration for a woman who has dedicated her life to championing the disabled worldwide, and using her many gifts to encourage men and women regardless of life situation.
Founder and CEO of Joni and Friends® Ministries, she also hosts the 4:00 radio program "Joni and Friends®" and the one-minute feature, "Diamonds in the Dust." Both programs bring daily inspiration to listeners, whether the challenge they face is physical, emotional or spiritual.
A diving accident in 1967 left Joni a quadriplegic; unable to use her hands and feet. She wrote of her experiences in her best-selling biography, Joni.
In 1979, she founded Joni and Friends® (JAF) to accelerate Christian ministry in the disability community throughout the world. The organization grew into the establishment in 2006 of the Joni and Friends® International Disability Center, with a global focus on impacting the lives of countless numbers of families affected by disability.
The ministry serves families effected by disability through a variety of programs. "Family Retreats" are held annually as a respite for families weary with the demands of caring for a disabled family member. "Wheels for the World" has made it possible for the refurbishing of over 100,000 wheelchairs to date, donated and custom-fit to needy children and adults in developing nations.
A recipient of numerous prestigious awards over the years, Joni has been awarded the American Academy of Achievement's Golden Plate Award, The Courage Award from the Courage Rehabilitation Center, The Award of Excellence from the Patricia Neal Rehabilitation Center, The Victory Award from the National Rehabilitation Hospital, the Golden Word Award from the International Bible Society and the William Ayer Award for excellence from the National Religious Broadcasters' Association. Also, Joni and Friends® received the 2002 NRB Radio Program of the Year award.
She's the author of more than 50 best-selling books. In 2003 Joni authored her memoirs, "The God I Love" and most recently "A Spectacle of Glory."
Her expertise and gift at articulating the needs of the disabled community have afforded a vast array of speaking opportunities ranging from The Larry King Show to testimony on Capitol Hill.
A more recent addition to Joni's outreach is a television program, also titled Joni and Friends®. Aired on multiple outlets nationwide, it has quickly become noted for outstanding production as well as content values.
On April 1, 2009, Tada was inducted into the Indiana Wesleyan University Society of World Changers and was presented with an honorary doctorate while speaking at the university.
In February 2012 Joni was inducted into the National Religious Broadcasters' Hall of Fame, and in March 2012 was awarded the William Wilberforce Award by The Chuck Colson Center for Christian Worldview.
Learn More
>> Contact Lee Ann Jackson at LeeAnn@ambaa.com or 949-681-7644
Books
A Spectacle of Glory: God's Light Shining Through Me Every Day: published 2016
Beside Bethesda: published 2014
Joni and Ken: An Untold Love Story: published 2013
Diamonds in the Dust: 366 Sparkling Devotions: published 2013