"There are two gifts we can give our children, one is roots and the other is wings."
My oldest child just graduated from high school and while we have so much to celebrate, my emotions can quickly turn from happy, excited and relieved to worry and concern as we release my son into the world.  Graduation time stirs up a lot of emotions, but I was reminded by a friend that this shouldn't be a sad time, for this is what we do as parents . . . we raise up our kids to send them out!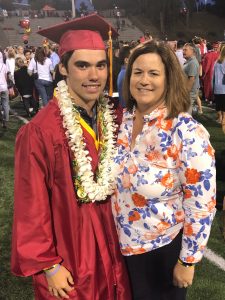 And we hope that this is what we've done for Carson.  Just recently, when I asked him about his day at school, he struggled with the right words to describe what he was feeling and then said, "it was confusing."  And as we talked, I began to understand why.  He had been engaged in various discussions with fellow students about the abortion laws taking place in states like Alabama and others.  My son holds a pro-life view and because he's not afraid to share his viewpoint, he sometimes receives backlash from his peers who share a different view, especially female students who tell him that he shouldn't have a voice in this debate because he's a guy.
This is just one example of conversations on various topics and issues that my son has been engaged in.  The point is that we are living in a moment of cultural confusion.  Fewer and fewer of the things that give meaning to our lives come easily.  Family, community, beauty, truth seem to be constantly eroding around us—while our news feeds are full of despair, anger, and division.  How are we as Christians to make sense of the world around us?  How can we make sure we have clarity in our daily lives?
The description at BreakPoint's Twitter page states:
A daily dose of sanity from @JBStonestreet and the @ColsonCenter—applying a Christian worldview to culture, politics, and more.
Enter in BreakPoint.  There are numerous times when one of their commentaries cuts through the noise of the culture with truth and it's a trusted resource that we've used in our home with our kids.
How to get it:
Founded by Chuck Colson (1931 – 2012) in 1991 as a daily radio broadcast, BreakPoint provides a Christian perspective on today's news and trends. Today, you can get it in written and a variety of audio formats: on the web, the radio, or your favorite podcast app on the go.
We are sincerely grateful for our BreakPoint station partners who are sharing these commentaries and Christian worldview programming with listeners all over the country.  It's a valued resource and as a mom who prays and hopes that my kids will hold closely to their faith once they leave our home, I am grateful for tools like those the Colson Center provides—it truly is a "daily dose of sanity!"