Anchor Today
The daily invitation to "anchor your day in God's word" includes a full verse of Scripture and relatable illustration voiced by Charles Morris.  He invites listeners to the spiritual disciplines of daily prayer and Bible reading with the daily 1:00 feature.  It's a reminder that our hope in Christ is, as Hebrews 6:19 states, "an anchor for the soul, firm and secure".

  This program is available for customization with a station ID.  (Conditions apply)
Take a listen
Program Tool Kit
Download artwork, program titles, and more on Dropbox
Station Comments
"There are many features and promos that stations can use to build special moments of spiritual encouragement for listeners. In radio, every second is a fleeting moment and an opportunity. So much of that every-second-value has been lost in the digital age, where time has become less and less important. That is radio's strength, its uniqueness, its attraction; that every second has value. And, that is the value of
Anchor Today
. It adds a unique flavor that is applicable to the moment and yet advances biblical truth.
Charles Morris
brings journalistic intrigue along with biblical teaching to provide a special moment of encouragement to our most valued listeners. Airing
Anchor Today
is not merely a fill, it is a purposeful opportunity to reach more for Christ."
–Brett Larson, General Manager, Crawford Media Group (Buffalo-Toronto-Rochester-Birmingham-Huntsville)
Contact Us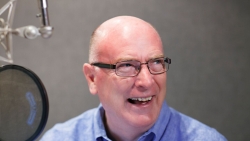 Every one of Haven Ministries' programs centers on one purpose—to share the Great Story that's all about Jesus.  Learn more at haventoday.org
Connect
Program Contact
Where it Airs
More From This Ministry

One of the best Haven Today programs from the previous week is selected for your weekend listeners—commentary based on that week's news with biblical application … offering hope for people who need Jesus every day!

Every day, Charles Morris speaks with warmth and spiritual insight to people who need Jesus in a daily 26:00 program that calls us to the only lasting resolution to life's problems—the gospel of Jesus Christ.

Charles Morris brings a daily 1:00 feature that engages current news headlines with the hope of the gospel.