Fruitcake is a binary food.  By that I mean either you really like it or you really don't.  It's one or the other.  I've met very few people who are on the bubble about knocking off a slice of this mysterious food.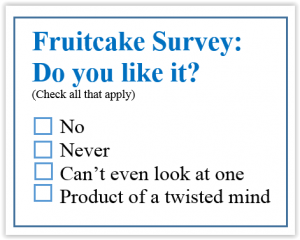 Even the definition of fruitcake is binary:  Webster gives us just two choices.  It's either a "holiday cake containing dried fruits and nuts" or "an eccentric or insane person."   (Of course I'd argue, if you enjoy eating fruitcake, you are "an eccentric or insane person.")
Any way you slice it, by most measures, the fruitcake noun applied as a personal adjective is not a good thing.  That is, unless we're talking about divine ingredients.
So what if the ingredients were stand-alone good? Even admirable, recommended and encouraged?  Then being called a fruitcake takes on a whole new meaning and mix of components.
Think of it this way:  Replace almonds, raisins, pineapple, apricots cherries, pecans, walnuts and dates with the ingredients the apostle Paul mentions in his letter to the Galatian church:
"But the fruit of the Spirit is love, joy, peace, patience, kindness, goodness, faithfulness, gentleness, and self-control."
                                                                                    (Galatians 5:22-23)
What a recipe!  If someone called me a "fruitcake" because I evidenced those attributes as the fruit of my life, I'd be thrilled.
The older I get, the more I've come to realize that these attributes are a result of the Refiner's fire.  Never easy.  Never simple.  Filled with the pain as the Master's file and hammer word on the edges of my life.  But always worth the result.
James affirms that thought, suggesting the end result will be perfection!
"Consider it all joy, my brethren, when you encounter various trials, knowing that the testing of your faith produces endurance. And let endurance have its perfect result, so that you may be perfect and complete, lacking in nothing."
                                                                                   (James 1:2-4)
Yes, the Lord uses many things to deepen our walk with him, conforming our lives to the image of His Son.  One of them most certainly is Haven Today with Charles Morris.  I listen every day.  And I'm grateful that I'm always being pointed back to the Savior since Haven is "all about Jesus." The more I listen, the easier it gets to exhibit those fruit of the spirit.  Who knows, someday, somebody may just call me a real fruitcake.