We live in a broken world.  But does it have to be this broken?
No, says Dr. Jim Garlow, who offers engaging, biblical answers to our most pressing cultural questions.
Jim says,
The real division in America is not Right vs. Left, but right vs. wrong.  And in that dispute, God's Word is the definitive authority.
Christians are bombarded with new social and political issues every day.  From social justice to sexual identity, we are groping for answers to today's burning political questions.  What should a Christian say when confronted with these confounding issues?  How can a person of faith use the Bible as a resource when navigating these cultural minefields?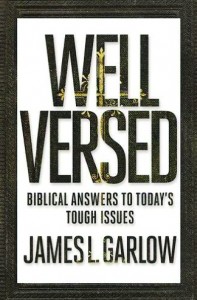 This month on "The Garlow Perspective," Jim discusses content based on his book, "Well Versed," the ultimate Scripture-based guide for Christians looking for answers, reassurance, and resources on topics including Israel, terrorism, debt, taxes, abortion, minimum wage, bioethics, the role of government, war, Islam, entertainment, and many more.
Jim helps believers understand the Bible's teaching on the hot-button issues they're challenged on every day and equips them to confidently respond with the truth our nation so desperately needs.
As expected, Jim pulls no punches on any issue—and backs it up with a biblical approach that would be difficult to challenge otherwise, despite your religious or theological background.  But listeners will also hear his pastor's heart as he speaks to the issues with plenty of mercy and compassion as well!
For more info about Jim Garlow and his Well Versed ministry, go here.