"Thank You" – two simple words that can mean a great deal when expressed to someone.  I'm thankful that growing up, my parents insisted that the next order of business after receiving a gift was to write a thank-you note, and the importance of expressing gratitude was impressed on me from my earliest years.  It's a habit that I've tried to instill with my kids as well.
But beyond writing thank you notes to individuals, it's important (and biblical!) that we cultivate an attitude of gratitude towards our heavenly Father, thanking Him daily for our blessings, even in difficult times.
Nancy DeMoss Wolgemuth says . . .
After more than two decades of ministry to hurting people, I have come to believe that a failure to give thanks is at the heart of much, if not most, of the sense of gloom, despair, and despondency that is so pervasive even among believers today.  Furthermore, many of the sins that are plaguing and devastating our society can be traced back to the oft-undetected root of un-thankfulness.

The "attitude of gratitude" is something that desperately needs to be cultivated in our hearts, our homes, and our society.  Its presence brings a host of other blessings, while its absence has profound, lethal repercussions.
Cultivating an attitude of gratitude . . . it truly is your journey to joy!
For details on upcoming programs, including themed broadcasts for Thanksgiving, download our Program Tool Kit here.  And we encourage you to download our Thanksgiving Holiday Tool Kit for a PSA by Nancy and quote graphics like this one for your social media use: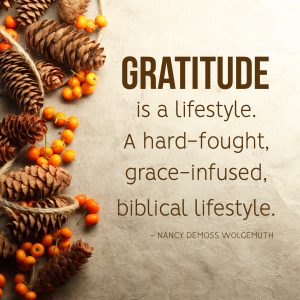 On behalf of Nancy and the ministry team at Revive Our Hearts, we say . . .
"I thank my God in all my remembrance of you . . . because of your partnership in the gospel from the first day until now." – Philippians 1:3,5