How can we deal with difficult people, without becoming one ourselves?
The story of Abigail in 1 Samuel 25 shares the decisions and actions of a discerning, godly woman when conflict brews to the threshold of war because of her husband's mean-spirited and foolish behavior. And the lessons we learn from her are not just applicable in marriage. Abigail's story provides valuable wisdom for dealing with any difficult relationship.
In response to requests from Revive Our Hearts listeners, the ministry is releasing the first in a series of Bible studies by Nancy DeMoss Wolgemuth that are based on women in the Bible. Abigail: How to Live with the Difficult People in Your Life is a six-week Bible study that will help you cultivate wisdom and discernment through Scripture, prayer, and strategic questions.
Please share about this new study with your listeners as they'll have the opportunity to study online starting later this month, including weekly discussions within a community via Facebook. Learn more and request your copy here.
Only God's grace and the power of Christ can enable us to respond with kindness and wisdom, in our homes and our other relationships.
Visiting with ROH
It was a special privilege for me to visit the ministry (based in Niles, Michigan) recently and be a part of Nancy's radio recording session where about 80 women attended. Here is a pic of me with Nancy and Kristi Dean, a faithful listener and ministry friend who drove over from Chicago:
And here are the producers who help get these broadcasts to your station:
(Pictured L-R: Phil Krause, Tom Mathis, me, and Hugh Duncan)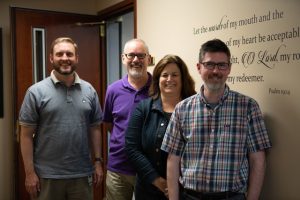 During this session, Nancy recorded 8 new radio programs including a revised broadcast on marriage that airs July 10th as part of the series on "The True Woman Manifesto."
Program details and promo copy for upcoming programs are provided here in the July Program Toolkit.
Thank you for partnering with us. We are blessed and encouraged that you stand with us as we point women to Christ and help them know and apply His Word in every area of their lives.