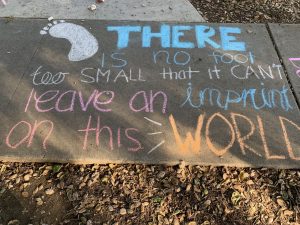 What strikes me the most as my youngest daughter is now half way through her high school senior year is not exactly what you might expect.  It is true that the years have flown by and it seems like just yesterday I was dropping her off for her first day of kindergarten.  But as her  graduation draws near, what I have found so breathtaking is how God has granted her such a burden for others . . . particularly those who have no voice.
In the fall, my Rebecca launched a Students for Life club at her public high school and this past weekend, she organized a "chalk walk."  She and fellow classmates headed to our local park and created beautiful chalk artwork . . . all the while, ready with pro-life hand-outs for any who passed by and might ask what they were doing and why.
My daughter's best friend, a Students for Life board member, joined Rebecca.  Her older brother, Scotty, has Down syndrome and I can't help but think that the close friendship Rebecca has formed with their family has played a part in her commitment to the value of all life.
And that's why I'm so excited about the Sanctity of Life radio special Brad Mattes and the Life Issues Institute has planned for 2020, "Every Life Matters: The Truth about Down Syndrome."
This is what Brad had to say about the special,
I've just filmed interviews with four amazing individuals. We'll be editing these conversations into our annual Sanctity of Life Sunday half-hour radio special in January.  We'll be talking about legislation to protect unborn babies diagnosed with Down syndrome. One of my guests is a Utah state legislator who authored a bill that was signed into law, and an attorney shared her legal perspective.  But it was the real-life, human stories that touched my heart the most.  Shauna Amick, Joni and Friends, shared her initial fear and ultimate dependence on God after the birth of their daughter Sarah who has Down syndrome.  And Katie Shaw, who has the condition, successfully lobbied to pass legislation in Indiana . . . I can't wait to share their stories with you.
I love what Scotty's mom shared with me about life with a son who has Down syndrome,
He lives life fully engaged with people without worry about what people think of him. My life has forever been changed for the better because of Scott. I know that he is made in the image of God and his life has immense worth.
Contact me, lee@ambaa.com, for details about the 26:00 special and start making plans now to share the important message that Every Life Matters on January 19th, Sanctity of Life Sunday 2020!