"I came that they may have life and have it abundantly." John 10:10
Nancy DeMoss Wolgemuth shares, "Through years of listening to women share their burdens and battles, and searching the Word of God for wisdom and hope, I've come to believe that the root of most of our struggles is this: You and I have been lied to, and we walk through life believing those lies."
This September 27-29 in Indianapolis, almost 7,000 women will come together at True Woman '18 to experience God's Truth through short, topical teaching segments and engaging, powerful dramas based on Nancy's best-selling book, Lies Women Believe: And the Truth that Sets Them Free.  There are still seats available, but listeners need to register soon before it sells out.
And this month on "Revive Our Hearts," Pastor Alistair Begg joins Nancy to help show listeners the amazing, beautiful design God displayed when He created male and female.  He shares solid, biblical teaching on manhood and womanhood that listeners can stand on.  Promo copy to help promote this series (airing June 25-29) and other programs is included in the June Program Toolkit here.
We also encourage you to download our Father's Day Toolkit which includes this quote graphic by Nancy that you can share on your social media streams.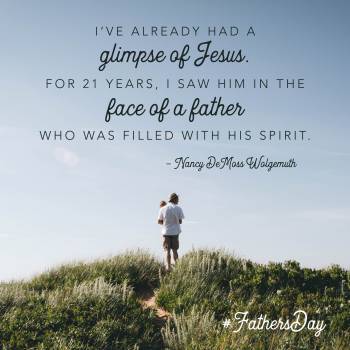 Thank you for your partnership.  As Nancy says,
This world is profoundly broken and lost.  That is true of all of us, apart from Christ.  What an incredible opportunity we have to live and share the beauty and restoring grace of His Truth and the power of our redeeming God to make all things new!