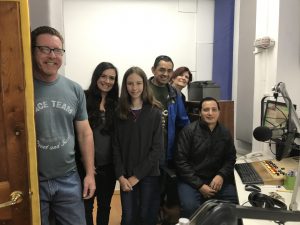 A friend was telling me about her son leaving for college and how she packed away his Bible in the box of food she prepared for him.  She placed the Bible under the brownies because she knew that would be the first item he would unpack.
Her prayer is that he would read the Bible often and through it, grow in his relationship with Christ.
I thought about my friend's story as I recalled an experience I'd had while on a recent mission's trip.   While I was in Ecuador, I was able to visit Radio Ondas de Esperanza, a Spanish Christian Radio Station.  The station announcer, Fabian Armijos, told me how much "Joni and Friends" means to their listeners  . . . what a "huge blessing" Joni has been to them.
(Need a translation?  Send me a note and I'll share with you all the great things Fabian had to say about Joni and the station's plans for expanding their own outreach in Ecuador!)
My friend's story about the Bible and the brownies brought to mind how often we do things in an effort to share about Christ with others but don't always have the privilege of knowing the impact of our efforts. My friend may not know for years, (if ever), the impact on her son simply from including the Bible in his college care package.
She told me that she leaves that in God's hands.
When the "Joni and Friends" (4:00) and "Diamonds in the Dust" (1:00) programs are recorded, they're done so with the prayerful anticipation that they will encourage listeners and draw them closer to Christ . . . how meaningful to hear firsthand from this station in Ecuador how God is using Joni and Friends in Spanish to encourage and draw others closer to Him!
"I've always considered our radio programs as an avenue God uses to speak strength, courage and comfort into the hearts of His children," Joni said. "I see 'Joni and Friends' as a vehicle to help listeners learn how to live – and live well – in a world of pain and suffering."  – Joni Eareckson Tada.
Thank you for sharing Joni's encouraging radio messages with your listeners and, for being willing to be used by God to impact lives for Him! (And, if you aren't currently airing Joni's programming, contact me to add either, or both, features to your station line-up!)
And, looking towards September outreaches, included on the Joni and Friends calendar next month is a Wounded Warrior Getaway in Maryland where service men and women will be encouraged, an International Family Retreat in Peru and a Wheels for the world event in Ghana and Guatemala.  Thank you for your prayers for these events and for those attending!