For the past year I've been reading and studying the epistles of Paul.  In doing so, I've been reminded afresh of the importance of growing in knowledge and understanding of God's Word, sharing the Gospel, showing love for my neighbors, pursuing holiness, and building up the faith of fellow believers.  But, what's become very clear too is that living like a Christian isn't easy.  In fact, it's an impossible battle–at least without some powerful defensive and offensive help.
In my attempt to walk in a manner worthy of God, especially in today's culture, I've asked questions like …
What's the best way to battle temptation, doubt, and discouragement?
How will Satan and his unseen forces assault me and my faith?
How do I stand strong and resist the clever, dangerous attacks from the enemy?
Perhaps many of your listeners have asked these same questions.  Thankfully, God knows what we're facing every moment of each day.  He knows exactly what we need and has designed the perfect protective gear for His children.  And that's the subject being covered in September on "Grace to You."   From Ephesians 6, John MacArthur shares the six pieces of armor with which God supplies His children to withstand the onslaughts of the evil one.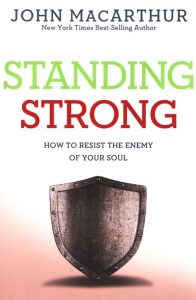 This month-long series begins next week when Grace to You continues it 50th anniversary celebration with one of John MacArthur's most requested studies  … The Believer's Armor.
You can find more details about each day's broadcast when you download the September Program Tool Kit now.  In addition, you'll see there are listed two helpful resources which can serve as wonderful companions to this study.   The Believer's Armor booklet is available for free to all and the Standing Strong book is offered free to listeners contacting the ministry for the first-time.
It's an exciting month of programming ahead.  Be sure to tune in starting September 3 and encourage your audience to do the same.