According to a Barna survey done a few years ago …
"Three out of four adults said that they believe Jesus Christ was born to a virgin, Mary, as described in the gospel narratives." 
That may be an impressive stat, but actually, most people (including your listeners) have heard bits and pieces of the Christmas story throughout their life.  However, how well can they answer the most important, often misunderstood, truths behind the story?
Was the virgin birth essential for Christ to accomplish His earthly ministry?
Who were the wise men and how did they fit into God's plan?
What was the significant meaning of the gifts the wise men brought?
How do the responses of those who witnessed Jesus' birth compare to responses still common today?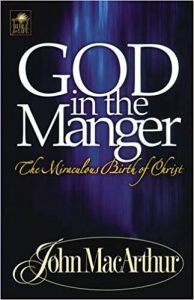 This week on "Grace to You," John MacArthur provides answers to these questions and so much more in his study on  The Birth of the King, airing 12/6-25.  Starting in the Gospel of Matthew, chapter one, John helps us see the overlooked, but crucial truths of the Christmas story—including the makings of the greatest power struggle of all time, between the infant King Jesus and a fearful rival.  This is sure to be a wonderful and rich study to participate in during this holy season.  Be sure your listeners tune in.
The complete list of programs and offers this month are in December's Program Tool Kit here.  One particular resource available to your listeners this month is God in the Manger.  This book coincides well with this month's broadcast series and includes a study guide at the back.  Details can be found here at GTY.org.
Trust you and your family are enjoying the holiday season.  From our neck of the woods to yours, Merry Christmas!