What is your favorite Christmas song or carol?  I have lots of personal favorites, but generally, I enjoy listening to and singing along with the classic carols that help me focus my mind and heart on the reason why we celebrate this special season.
Nancy DeMoss Wolgemuth says, "Christians love to sing, and I love it that the Bible gives us something to sing about."  She points out that some of the very first words of the New Testament are the very first songs of the very first Christmas.  There's:
Elizabeth's Song
Mary's Song
Zechariah's Song
The Angels' Song—two songs really
Simeon's Song
At the beginning of this special Advent series of features, Nancy shares . . .
These songs of Christmas are God-centered, not self-centered, and they speak less to what Christmas does for us, and more to what Christmas reveals about the glory and goodness of God. 

Over the next few weeks on Seeking Him, we're going to take a closer look at those first songs of Christmas.  I hope you'll be encouraged to lift up your eyes the way each of those participants in the first Christmas did, with your gaze fixed on our great God and Savior . . . our Christmas song, Jesus.
Listen to Nancy's daily "Seeking Him" feature here.  If you are not currently airing this program and would like to add it to your lineup, please contact me for access.  Special note: these features are also available for the first time in Spanish.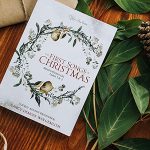 For more about The First Songs of Christmas, go to the Advent blog at ReviveOurHearts.com.
And, back to my original question.  Please comment below with your favorite Christmas song and why it's special to you!
On behalf of Nancy and Revive Our Hearts, we wish you a very Merry Christmas!