To learn biblical prophecy—to find out where this world is headed—you need to read books like Daniel and Revelation.  But by now we've come to know, they don't provide the whole picture.
This month on Grace to You, listeners will get a clearer understanding of the future when John MacArthur begins a series of messages -first preached in 1977–titled The Return and Reign of Jesus Christ.  It's a provocative tour of the book of Zechariah, focusing on chapters 9-14.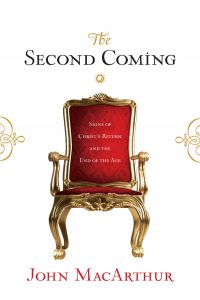 In a brief on-air discussion with executive director Phil Johnson, John explains that while the book of Zechariah is filled with visions and prophecies, signs, celestial visitors, and even the voice of God, it's intensely practical and deals with repentance, divine care, salvation, and holy living.  That's something we all need to hear today, particularly in today's unsettling culture and the impact it's having on the Church.  Be sure your listeners don't miss The Return and Reign of Jesus Christ, airing July 9–27.
And as a companion resource to the broadcast series, Grace to You is making available at GTY.org John's book titled, The Second Coming.  It takes a thorough look at what the Bible says about this subject and most notably, the Olivet Discourse (Matthew 24).  If current events haven't yet stirred in your audience's heart a longing for Christ's return, this book (along with the study) is sure to help do that.
For complete details about this series (including scripted promos) and all of the resources available, download the July Program Tool Kit.  And please reach out to me if there's anything more we can do to serve you better.
Enjoy the rest of your summer … and stay cool in the process!