Have you ever found yourself believing any of the following statements (or living as if you do)?
I can't control my emotions. 
God can't forgive what I've done. 
If my circumstances were different, I would be different. 
I can thrive without consistent time in the Word and prayer.
We have an enemy who lies to us perpetually. Those lies put us in bondage and keep us from living out God's great design for our lives. But God wants us to experience the freedom of walking in Truth!
Nancy DeMoss Wolgemuth says,
Back in 2001, I wrote Lies Women Believe: And the Truth that Sets Them Free. My prayer has always been that it would help women recognize the enemy's lies and learn to counsel their heart with the Truth, regardless of what human reason or feelings might dictate. I could never have imagined how the Lord would use this book! Seventeen years later, with over one million copies in print, in twenty-six languages, I continue to hear from women who have experienced freedom through rejecting the lies they've believed and replacing those lies with the Truth.

That's why I spent much of 2017 updating and expanding this book—to expose the enemy's lies to a new generation of women and to give them the tools to walk confidently on the pathway of Truth."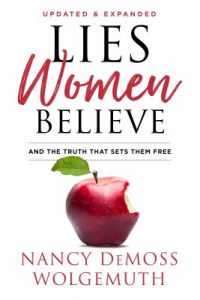 The newly revised and expanded book releases this month and Nancy teaches this material on the daily "Revive Our Hearts" broadcast (go to the February Toolkit for details). Through your partnership in airing these programs, we pray that your listeners will learn to embrace God's Truth and experience the grace, forgiveness, and abundant life He wants for all of us.
May God unleash the power of His Truth in your life and in our generation!
"IF YOU ABIDE IN MY WORD, YOU ARE TRULY MY DISCIPLES, AND YOU WILL KNOW THE TRUTH, AND THE TRUTH WILL SET YOU FREE." – John 8:31-32