Here in California, we're preparing (once again) for fire season.  And after the devastating fires we experienced last year, you can imagine many folks are taking extra precautions this year to minimize damage and save more lives.
In the wake of the Camp Fire that leveled a quaint little town called Paradise last November, I learned about a gentleman who lost everything–except his perspective.  Here's what he said then, 11 days after what he calls "Fire Day" …
"By the way, the BEST news in all of this is that God IS FAITHFUL. He is gracious, compassionate, all-powerful. And He's NOT rethinking what He allowed Nov 8, wondering if maybe He should've turned the story and cut the destruction and death numbers."
And 254 days later, he writes …
"A few days ago I was back in Paradise to close the security box at our bank, visit empty P.O. Box 444, and pick up the last hundred bricks I'd saved from the debris-removal crew on my patch. And there was the unmistakable hand of God again. This time, the "dead" crepe myrtle tree in the front yard had bloomed—just a sprout—amid its burned branches…New life!"

"So what's ahead? I dunno. But it definitely has the ring of new life to it. And wherever this is going, there's no hurry. God knows. Like Ezekiel, I'm always glad to say this is unfolding like this so '…you will know that I am the Lord.'"
At some point in our lives we'll all experience some degree of suffering and pain–maybe even persecution–as a result of unforeseen circumstances, broken relationships, or our faith.
So where is God in all this?  And how might His loving purposes be working for our good during the very real suffering we may face?  John MacArthur answers those questions for your listeners on next week's Grace to You broadcasts, airing 8/5-9.  In his series,  Making Sense Out of Suffering, John turns our attention to 2 Corinthians 12.  Through this study of the apostle Paul's own personal struggle with a torment he called a "thorn in the flesh," we'll learn how to thrive in our own tough times, just like Paul.  
Then later i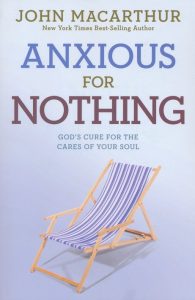 n August, John provides listeners with an in-depth look at … Heaven.  In another one of his most popular studies, John shares from Scripture what heaven will be like, how we'll relate to God there, and what we'll do in heaven.  It's an encouraging series for all believers.  And, it could be particularly helpful to any listener who has recently faced the death of a believing loved one.
Learn more about all that's ahead on the daily and weekend broadcast when you download the Program Tool Kit here.  Included is a list of the resources available during August.  In fact, for a limited time, Grace to You is making available to listeners a free copy of Anxious for Nothing.  This booklet can help listeners during tough times move closer to the true source of comfort and victory–Scripture.
I'm looking forward to listening to these two studies to glean a clearer understanding of God's Word and His promises so that when tough times come my way, I'll be able to keep an eternal perspective, too.