We are in the countdown to summer at our house.  My daughter will finish her sophomore year this week while my son becomes a high school graduate on June 13th!  While these are fun and exciting days, it's no doubt a busy, overloaded time of activity filled with varied emotions.  Like us, you may be feeling stressed, weary and fatigued, longing to get away from it all.  Nancy DeMoss Wolgemuth says, "The remedy isn't necessarily found in a vacation, but in spending time in God's presence."
When was the last time you got away from the busyness of life just to seek the Lord?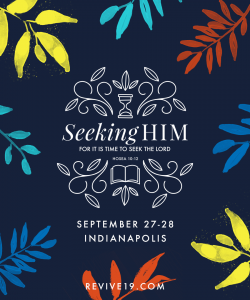 That's exactly what the ministry of Revive Our Hearts is offering your listeners this September 27-28 when women will gather in Indianapolis and around the globe for Revive '19: Seeking HIM.  Speakers including Nancy DeMoss Wolgemuth, Mary Kassian, Dannah Gresh, and many more, will open God's Word to reveal the heart of true revival on Friday evening and all day Saturday.
Dannah Gresh says this is an invitation to slow down and experience personal revival.  While women arrive busy and juggling lots of details, they leave with a glow—this peace and contentment.
What past attendees have said about the conference . . .
"This conference did exactly what I had prayed for. It filled my ministry cup to full and overflowing."
"I felt like I had been recalibrated."
"The Lord used every part of the conference to bring brokenness to my calloused heart and to refresh my weary soul."
But the good news is that listeners don't have to travel to Indianapolis to attend this conference.  The ministry is offering a webstream, encouraging listeners to either host or join a Revive '19 LOCAL event right where they live.
Would you join us in praying for this event and for ways you can be involved in spreading the word about it?  We have a promotional spot available for your use—just contact me for information.
"For it is time to seek the Lord." – Hosea 10:12
Scripted promo copy to promote upcoming "Revive Our Hearts" programs is provided in the June Program Tool Kit here.
We also encourage you to download our Father's Day Tool Kit which includes this quote graphic by Nancy that you can share on your social media streams: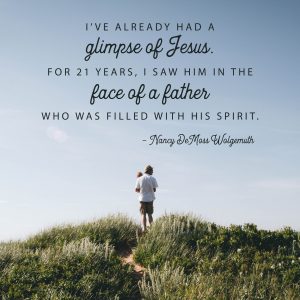 Nancy says, "Thank you for your continued partnership in this ministry.  It's because of you that women around the world are able to experience more of Jesus and His transforming power.  It's our prayer that they—and you—would be filled with His Spirit, receive fresh stores of His grace, and go out and serve Him with joy."