It's Back to School season and a time that brings about a variety of emotions for parents.  While some are excited and thankful to be back in a normal routine, others may feel anxious about all that a new school year brings for them and for their children.  With all the disturbing news about changes in public school curriculum that can cause Christian families to be concerned, we should be encouraged because parents still have a voice.
Jim Garlow has written about education and the importance of a parent's role in his book, "Well Versed" and a special Back to School "Mini-Series" on this topic airs this week on his daily feature, "The Garlow Perspective."
Here is a sample excerpt from the program airing August 13th . . .
You've heard "it takes a village to raise a child!"  While it plays a role, it doesn't supplant the role of parents!  Psalm 127:3 says children are a "reward from him"—a blessing and a gift.

This blessing is entrusted to parents—not the village.  And with that we have a responsibility to train our children in the ways of righteousness as Ephesians 6:4 says; and that includes discipline, instruction, training and education.  Unfortunately, we have an education system in America that often leaves parents with limited rights and choices.

Scripture calls us to teach our children diligently—to train up a child in the way he should go—in principles and the truth of God's Word!
As Jim said, "the village" should be no substitute for a parent's role in their child's education, and this is true for those attending any kind of school, whether it's private or public.
And, we're thankful that by airing Jim Garlow's messages on your station, you are equipping and encouraging parents who even today, might be faced with a challenge that affects their child for eternity.
We're all in this together!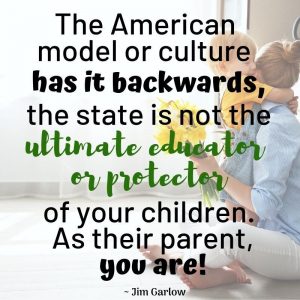 Download this and other graphics provided in our Back to School Tool Kit here.