"You will know the truth, and the truth will set you free." – John 8:32
I'm back from Revive Our Hearts' True Woman '18 conference that took place in Indianapolis last weekend and happy to say that I've returned, armed with Truth!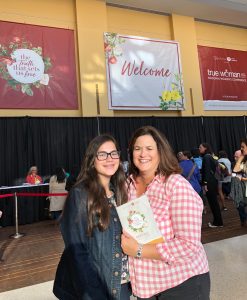 This event was a meaningful time for me and my teenage daughter, Jess, as we worshipped with the Gettys, were "washed in the Word" with Scripture memory from the National Bible Bee contestants, gripped by outstanding drama presentations by Acts of Renewal, and heard encouraging, yet challenging messages by Nancy DeMoss Wolgemuth, Mary Kassian, Jackie Hill Perry, Betsy Gomez, Dannah Gresh, Robyn McKelvy and Pastor Eric Mason.
The conference theme was "the Truth that sets us free" featuring content from Nancy's book, "Lies Women Believe."  We were part of 7,000 women in the room with thousands more watching the livestream, hearing from God's Word on these topics . . .
The Truth about God
The Truth about Ourselves
The Truth about Sin
The Truth about Sexuality
The Truth about Priorities
The Truth about Marriage
The Truth about Children
The Truth about Emotions
All of these messages are available through October 14th.
This event marked the 10th anniversary of the first True Woman conference and Nancy shared,
I thank the Lord for how He's used these events as a tool for His Kingdom.  Over the past decade, tens of thousands of women have attended a True Woman event, and hundreds of thousands more have participated via livestream, making an eternal difference in the hearts of women around the world!

My desire is that we will each leave this conference encouraged and changed, building our lives on the foundation of the Truth and becoming instruments of grace and Truth in the lives of those around us.
While True Woman '18 may be over, the need to know and live out God's Truth is ongoing.  Revive Our Hearts wants to keep the momentum going and so they are offering a 30-day challenge called "I Choose Truth" which you can sign up for here.
Thanks for your part in sharing this ministry with your listeners.  Revive Our Hearts program information for October is provided here.