For any church—including those in your community—to flourish and honor God it must follow the Bible's specific instruction for churches.  So what does the Bible say?
This week on "Grace to You," John MacArthur answers that question as he begins a timely series in Revelation titled, What Jesus Wants Your Church to Know (airing through October 26).  John takes listeners through the first three chapters of Revelation outlining Christ's message to the seven churches in the first century.  We'll hear important truths and find out how to avoid the danger of letting our love for Christ grow cold.  It'll also help us stay faithful to Him during troubling times.
Admittedly, when I first reviewed this series, I realized I had never read the book of Revelation straight through—mostly a few passages at a time.  I know that's a sad statement of my own study of God's Word, but I was a bit relieved to know that even seasoned students of The Master's Seminary hadn't read straight through Revelation, until John MacArthur took them through the entire book.  (Hear John share this in the opening of Monday's, 10/8, broadcast.)  Once again, John has challenged me to not just read my Bible more, but to read it more thoroughly.
A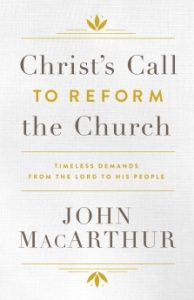 complete schedule of this month's programming and offers is in the Program Tool Kit here.   In addition, you'll find in this kit, updated and approved images for your use in promoting Grace to You.
Coinciding with this series—and the letters to the seven churches—is the release of John's latest book, Christ's Call to Reform the Church: Timeless Demands from the Lord to His People.  This book is available at no cost to listeners contacting the ministry for the first time (while supplies last).  You can direct listeners to GTY.org for more details.
Thank you for all you do to help bring the truth of Scripture to your listeners.  If there's anything more we can do to support those efforts, please let me know.