We recently updated our Sunday School Class directory and thought we'd take the opportunity to get to know one another better . . . so, we included a few Q & A's.
Besides the routine birthday, favorite ice cream and "what do you do in your spare time?" questions, we asked, "Who is your spiritual hero?"
Without hesitating, I wrote Joni Eareckson Tada.
As Joni marks her 50th year in a wheelchair this month  . . . living out a life testimony of God's faithfulness and joy, there's no doubt I'm in good company with many who would respond with the same answer.
Throughout the month of July, there's special programming on "Joni and Friends" in conjunction with the 50 year milestone, as well as some programs (and blogs) reflecting on the journey to launch the ministry's radio outreach and some of the folks involved along the way.  ( We're a bit partial to these programs and frankly, particularly to this one which aired just last week.)
(If you aren't currently airing either the daily "Joni and Friends" 4:00 feature or the 1:00 "Diamonds in the Dust," now is a great time to add either – or both –  to your line-up . . . contact me at lee@ambba.com to get started!)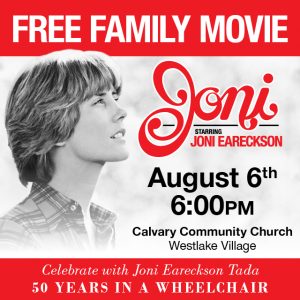 And this week, on Haven Today with Charles Morris, Joni shares her powerful story of pursuing faith in the midst of tragedy.  It's a special series entitled, All Things Great and Small that you won't want to miss!
Also, if you're in Southern California on August 6, you can join Joni at Calvary Community Church in Westlake Village, CA at 6 PM PST for the free Joni Movie Re-release! To learn more about the premiere and to RSVP, visit the ministry web site here.
A spiritual hero can be defined as
someone who comes into our lives and leaves an indelible impression that points back to Christ before it points back to them.
Is it any wonder that when I consider spiritual heroes, it's Joni who comes to mind and heart?
Would love to know who your spiritual hero is  . . . please comment below!