Today is a day of celebration for the ministry of Revive Our Hearts for many reasons.  Not only is it Nancy DeMoss Wolgemuth's birthday, but it's also the 18th anniversary of her daily radio program!  And her latest book, written with her husband, Robert, releases today.  "You Can Trust God to Write Your Story" is a message about God's providence.  Nancy and Robert share out of their own experiences and those of others close to them, giving readers a Christ-centered vision, hope and trust for the future.
All this month on "Revive Our Hearts," listeners will hear messages about how they can trust God to write their story.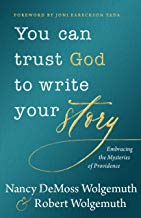 You Can Trust God When . . .
Your marriage is in trouble
You're pressed financially
You lose your health
You lose a loved one
Some inspirational quotes that make great shareable tweets . . .
"God sovereignly and purposefully ordains and orchestrates the circumstances of our lives . . . There is no plot twist in your story or ours of which He is unaware or that He can't overcome."
"What we see now is not the whole story. If we could see what God sees and know what He knows, our hearts would be at peace."
"God works in unexpected, unexplainable ways to accomplish His purposes. We should not expect Him to write our story the way we would write it."
"We cannot promise that God will change your situation, at least not yet. But we can assure you that you are loved—deeply loved, with the steadfast love of the Lord, a love that never fails."
Special content based on the book is also airing on the "Seeking Him" feature this month.  Here is a sample program from Nancy . . .
Deep down, we all know that the best things in life come at a cost.

Romans 5 says, "Suffering produces endurance, and endurance produces character, and character produces hope, and hope does not disappoint us" (vv. 4–5).

Most of us would like to experience the benefits and blessings of suffering . . . without suffering!  We want sparkling diamonds without the intense pressure and prolonged time that it takes to form them.

If we wrote our own stories, we'd opt for sunny skies and smooth sailing; we'd skip the dreary, stormy days. We'd write a narrative in which we don't really need God.  But God loves us too much to let us have that kind of life.

Trusting God to write your story means saying "yes" to the heat and pressure, or whatever God chooses to use, to shape you into His masterpiece.
>>For more information about this new resource and ways listeners can interact by sharing their stories, go here.
>>Program details and scripted promos are available now in the September Program Tool Kit.