"There is only one beautiful child in the world, and every mother has it."  Chinese proverb
I was the youngest of three children, so I never grew up around babies.
The downside to that was I never developed a sensitivity to young ones.  In fact, I'd say it left me wanting to avoid babies.  I really never wanted to be around anyone else's infant.
My conclusion then: babies are obnoxious.  They cry far too loudly.  And they do so at the worst possible moment.  You can't escape them in an airplane. (Even though their mother promises "he's a good little baby."  Yeah, right.)  Babies were born with the ability to know just the right time to interrupt a church service or wedding or funeral.
And talk about needy and wanting attention.  They remind me of some unnamed US President!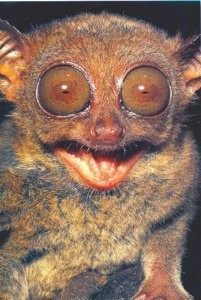 Babies being cute?  Who are you kidding?!?!  Growing up, I just didn't see it.  What in the world was all the fuss about?  For most of my adolescence, high school and college years, babies looked as appealing to me as a Tarsier or the infamous Aye-aye.  After all, isn't that why they use the phrase, "A face only a mother could love?!"
And the pictures!  Really?  Do I have to look at all your pictures?  Who carries photos of their babies with them?!  That face looks exactly like . . . a baby.  Every other baby face I've ever seen.
Imagine you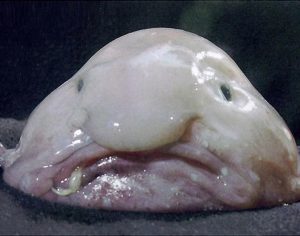 r child looks like the blobfish.  Worse yet, people then tell you they can see the family resemblance!  "Yes, my grandfather had that nose when he was in his 80's."
Now, I was never rude or stupid.  A least not to a parent's face.  When introduced to a newborn, I learned the deceptively artful response of, "Now THAT'S a baby! You must be so happy!"  (All the while thinking, "How could you bring a thing like that into the world?!")  I love the hilarious Seinfeld scene where one doctor said about a very ugly child, "Breathtaking!"  No kidding.
No, I never understood the love of a parent. That is, until the day my firstborn, a daughter, came into the world.  Wow.  Suddenly, I understood. I got it!  And I could appreciate how a parent's love becomes rabidly blind about the cuteness of their baby.
I confess now to having carried, and shown, an abundance of photos.  After all, she was so very cute!  Who could NOT think that?!
And then I realized, that's how God must view us.  That's how God must feel about our ugly mugs!  We get a hint about that when God instructs Samuel, "Man looks on the outward appearance, but the Lord God looks on the heart." In some mysterious way, the love of a parent parallels the love of our heavenly Father.  He looks past our sinful blemishes.  He doesn't see our litany of shortcomings.  After all, we're designed in His own image, intended to glorify Him in some secretive way.
But then His work goes far beyond our creation.  So much for the outside.  He wants to work on our inside.  To mold our character into the image of His Son.  The Lord sends circumstances our way to conform our persona.  He throws character builders in our path, designed to make us equally beautiful on the inside.
The best example, for me, is what occurred one summer day in 1967.  A beautiful teenager was enjoying her summer before college with her sister by swimming in Chesapeake Bay.  Fifty years ago, what seemed to be a horrific diving accident became the wet clay of Joni Eareckson Tada's life.  On that day, she came within a fraction of an inch of her life ending.  And now, for five decades, God has given her a megaphone of ministry through her wheelchair.  That mechanical prison has been the tool God used to set her spirit free and inspire millions around the world. There's no one I know who is more Christ-like than Joni.
This beautiful woman now reflects the radiant splendor of Jesus Christ to everyone she meets.  Her grace and unselfish living is humbling to observe, and I find so difficult to emulate.  But I'm grateful for her.  I'm so glad God has molded her, and encouraged her, and kept her here to inspire me.  I suspect you do too.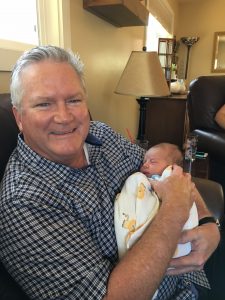 Charles Morris has been talking with and about Joni these days on Haven Today.  Take a listen on the website if you haven't already heard.  And check out her life story which has been remastered and is being made available on DVD.  Well worth the investment of time.
And that brings me back to the subject of newborns.
Having a child changed me.  Having a grandchild changed me more.  Now I find myself being one of those obnoxious grandparents, anxious to show photos to anyone who will feign interest: the checker at the grocery store, the gal at the fast food window and a distant cousin or two.  How could I not?  I now  have five grandchildren including the most beautiful grandson on the planet!  Stephen Timothy Sanders.  Now THAT's a baby!!