Focus On The Family Minute
John Fuller hosts the daily 1:00 feature – a "nugget of truth" for building strong families. A sampling from the daily half-hour program, this is helpful advice and insight for how to strengthen marriages and raise kids on the right path.
Take a listen
Program Tool Kit
Download artwork, program titles, and more on Dropbox
Station Comments
Healthy families are the foundation of a healthy society, and The Focus on the Family Minute is an essential part of equipping our network's listeners to build strong marriages and families…Christ-centered families equipped to thrive in the challenging times we live in.  –Roger Lonnquist, Network General Manager, Your Network of Praise Radio
Contact Us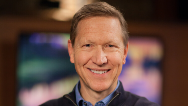 Focus on the Family is a global Christian ministry dedicated to helping families thrive. They provide help and resources for couples to build healthy marriages that reflect God's design, and for parents to raise their children according to morals and values grounded in biblical principles. Through their many radio broadcasts, Focus on the Family comes alongside families with relevance and grace at each stage of their journey. Learn more at focusonthefamily.com.
Connect
Program Contact
Where it Airs
More From This Ministry
Hosted by John Fuller, Weekend offers Saturday & Sunday audiences the very best of what's been heard on Focus on the Family the preceding week.
Focus on the Family provides today's families with biblically-based, yet practical, everyday insights on marriage and parenting — insights that help families thrive!

Classic stories are combined with motion-picture quality cast and sound design in a weekly 28:00 drama for family entertainment unlike any other.

The weekly 26:00 program hosted by Lisa Anderson helps young adults grow up, own their faith, date with purpose and prepare for marriage and family.
Give families the essential tools they need to understand, navigate, and impact the culture in which they live!
Available as a daily (Monday-Friday) or weekly feature, each 25:30 episode is a proven audience builder. Kids may tune in for the fun, but soon the whole family is hooked — for the entire half-hour!