It's tough being a Christian parent in these rough cultural waters.  I know the challenges well as I wade through the current with two teenagers.
Cultural pressure is increasing, especially on our kids.  But even in a world of addictions, ever-present screens, and gender-identity questions, youth can have clarity and confidence.  We must help them attain it.
Every day on "BreakPoint," John Stonestreet and Eric Metaxas talk about culture with the intent to help Christians be able to think clearly about what's happening in the world, how it influences us, and how we are to live in it.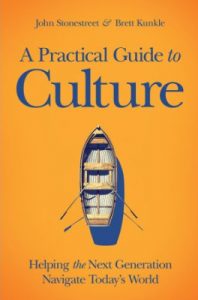 And now, John is taking that effort to another level with his new book, "A Practical Guide to Culture: Helping the Next Generation Navigate Today's World." In this honest and practical guide for parents and Christian leaders, John and co-author Brett Kunkle enable you to help your kids influence the culture, rather than let the culture change them.
To get even more practical, The Colson Center is excited to offer an online short course on this topic starting August 1st. Get more info and register here.
Take a step today towards investing in the next generation by helping the students in your life, and in your community, survive and even flourish in this cultural moment.
And, thank you for your ongoing partnership with BreakPoint and The Colson Center!