This week, we have seen powerful images of heroic acts of kindness in response to helping the victims of Hurricane Harvey.  These are unbelievable stories of ordinary people risking their lives to save strangers.
Perhaps it was divine intervention that at the same time, Nancy DeMoss Wolgemuth interrupted her teaching series on Revelation to air a scheduled guest interview with Shaunti Feldhahn on "The Kindness Challenge," discussing the lifelong power of kindness in an unkind world, and how it can transform our relationships.
While most of us aren't faced with a natural disaster like what has happened in Houston, we are provided with daily opportunities to practice kindness, and it starts at home.
Nancy shares . . .
Your call to kindness at home will probably take different forms from mine. It may involve curbing a sharp reaction to a childish accident, replenishing the fridge with snacks for a teen, helping a roommate with a project, repeating yourself gently to an elderly parent. But if we were all to demonstrate true kindness toward the people who know us best and see us at our worst, our more public displays of affection would likely ring more true. And I suspect that if we showed more kindness at home, we'd also find ourselves growing genuinely kinder toward everyone else.
For more information on this series and upcoming programs, download the September Program Toolkit.
Also, Revive '17 is coming up September 29-30 when the conference center in Indianapolis will be packed with over 2,800 women, ready to hear from Nancy and the other speakers about God's pattern of discipleship in Titus 2.  While the conference is sold out, we invite your listeners to take part in their own homes, churches, or other locations via the livestream.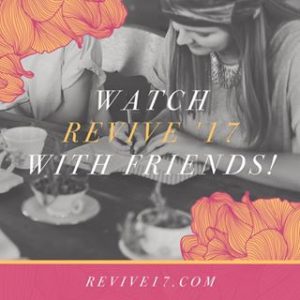 As word spreads about Revive '17 LIVE, would you pray?  Pray that people would share it with their friends and that they would experience it together with groups.  It's our hope that this free online conference will equip women to live (and thrive) in community—adorning the Gospel, together.