The month of October is a designated time when we honor our pastors and their families.  In fact, this Sunday (October 13) is Pastor Appreciation Day and so all this month, former pastor Jim Garlow is sharing a special series on the purpose of the church on his daily feature, "The Garlow Perspective."
In a program airing this week, Jim says,
For the church to be the church again, we must understand why the church is here.  In Ephesians 4:11-12, Paul tells us, "So Christ Himself gave the apostles, the prophets, the evangelists, the pastors, and teachers to equip His people for works of service."  But that equipping can't happen if the Church keeps sidestepping important issues and how His principles apply to everyday life.

Only fourteen percent of professing Christians feel a responsibility to share Christ.  Recent research also reveals more than half believe the moral truths revealed in Scripture are not absolute.  All of which underscores the need for the Church to reassert its authority as God's mouthpiece, pointing people to the Bible, and making sure Christians are once again well-versed in all it has to say.
Content from this series is based on material in Jim's book, This Precarious Moment: Six Urgent Steps that Will Save You, Your Family, and Our Country.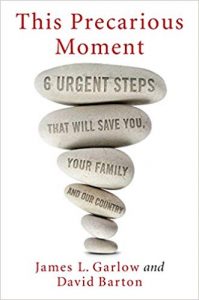 To help support your station's efforts in celebrating pastors this month, we are providing various audio and social content for your use.  Just download our Pastor Appreciation Tool Kit here (a PSA by Jim Garlow is available as well.)
For more information about "The Garlow Perspective," go here.  And to learn more about Jim's new ministry, Well Versed, visit https://www.wellversedworld.org/.