The Mercy Minute
Don Stephens in his daily 1:00 feature encourages listeners to make a lasting difference in a world of need by following the example of Jesus. Including stories collected from all over the world, and especially from those who volunteer with Mercy Ships, Don explains how we don't have to look far for ways to show mercy.
Take a listen
Program Tool Kit
Download artwork, program titles, and more on Dropbox
Station Comments
"I love the work of Mercy Ships, and I think that people need to know about it. This one-minute feature is a great way to highlight the amazing things that they do and share that right here in our community."
–Robin Robinson (General Manager), WHIF-FM
Contact Us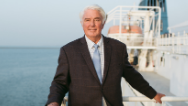 Mercy Ships is a global charity that was founded in 1978 by Don and Deyon Stephens. Since that time, Mercy Ships has performed services valued at more than $1.7 billion, impacting more than 2.8 + million of the world's most desperate people. They use hospital ships to go where medical care is nearly non-existent where they transform lives one at a time with lifesaving surgeries. Learn more at mercyships.org.
Connect
Program Contact
Where it Airs