There's a feeling I get when I'm just about to enter a hardware store.
It's possible I'm not there to buy.  Or, I may only be in the hunt for an odd nut and bolt.  But in either case, there's a feeling of fun, anticipating some serious aisle-browsing.   You know, just in case I "need" anything.
On visits like that, mysteriously, a wide array of products semi-unexpectedly tumble into my cart.  Maybe a 24V power drill will jump out at me.  Or, I find an irresistible socket set that could be handy someday.  I've actually had new pocket knives scream out: "Get me in case of the apocalypse—don't be left empty handed when the walking dead stroll down your cul-de-sac."  Who could resist THAT?!
To be fair, at the risk of unintended misogyny, I imagine some women feel that way on the way into a department store filled with the "perfect" shoes, killer dresses and alluring jewelry that "absolutely match" a certain dress.
Well every year, I get that same feeling at the National Association of Broadcasters.  Standing in line to pick up my badge, I get giddy with thoughts of playing with tomorrow's technology.   It's the siren's call of shiny new 8K monitors, seductive HD cameras and touring the insides of video trucks which look like they could launch intercontinental ballistic missiles.
I feel that way in spite of the fact that I'm about to mindlessly trudge 15 miles through four exhibit halls totaling 1,000,000 square feet.  Forget the swelling feet and 100,000 fellow attendees who all walk like we're in a massive people-pinball machine.  The fact is, my technological appetite is about to be amazed yet again by the latest and greatest hardware and software.  (Unfortunately, unlike the hardware store, most things at NAB cost slightly more than a Home Depot Swiss Army knife.)
Two 30,000-foot observations about NAB:
First, for the last several years, technology has been changing and expanding at an evolutionary rate, not revolutionary.  The iPhone, that was revolutionary.  The iPad, that was revolutionary too.  So was the PC and the Internet.  (A toothpick dispenser probably isn't revolutionary, but I sure like them at nice restaurants.)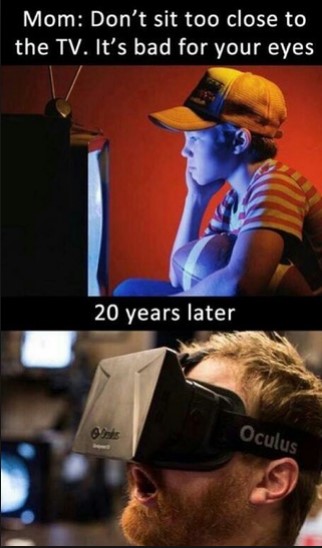 So, most of the hardware and software were evolutionary: further developments of existing products.  For example, 8K resolution technology wasn't new, but there was a whole slew of new cameras, switchers, processors and monitors.
Then a second note about NAB is related to four pairs of letters: AR, VR, 8K, QC.
Alternate Reality (AR) and Virtual Reality (VR) goggles have replicated at a rapid rate.  Lots of manufacturers.  There doesn't seem to be a single winning platform yet, but the diversity of software and applications signals that this product will be a part of our future in some way.  Video gaming in a virtual world (VR) is certainly on the near horizon.  So are applications that augment the real world (AR) with useful information.  For example, as you approach someone at a convention, your glasses could pop up that person's name via face recognition, and tell you their birthday is tomorrow.
8K was just someone's electronic dream a few years ago.  However today, it's now being aggressively deployed in astounding cameras and monitors.  The pictures are so clear it leaves your knees weak.  4K (ultra-high definition) products are now ubiquitous, even though quality programming is lacking, just as was the case on the rollout of HD.  Interestingly, I bought a pocket camera at Costco recently which allows me to shoot 4K video.  There's a 4K monitor somewhere in your future.
Then lastly, QC stands for Quad Copters.  The field of products has narrowed a bit (though the consumer market continues to be flooded with options).  But the control, stability and quality of video from our flying friends is breathtaking.  What a difference it makes in a video!
There was much more I enjoyed at NAB, and for that, I direct you to our recent print newsletter.  Check your print copy, or head over to our digital edition.  There you'll see photographic evidence of those with whom I traversed the 15-miles, and the special award we gave to a longtime friend on behalf of the Christian Radio Technical Forum.