Our team at Ambassador enjoyed a wonderful start to the Christmas season when we recently attended SING! An Irish Christmas with Keith and Kristyn Getty.  We sang many hymns together including the hymn most identified with Advent . . .
O come, O come, Emmanuel
And ransom captive Israel
That mourns in lowly exile here
Until the Son of God appear.
Rejoice! Rejoice! Emmanuel
Shall come to thee, O Israel.
Advent means "arrival, appearing, coming" and anticipates the coming of Christ to Bethlehem's stable.
John Stonestreet has talked about Advent a lot on BreakPoint the past few years, not because he's a Scrooge, but because these days of preparation are among the most important days in the Christian calendar, and are a wonderful way to foster a Christian worldview in our hearts and minds.
On a recent commentary, he shared the following . . .
The King has come.  He will come again.  The meaning of Advent is worthy of our reflection, and here's something to help.  For nearly two millennia, Advent has called Christians to reflect on life between the two bookends of God's redemptive acts in Christ: His incarnation and His coming again in glory to judge the living and the dead.

During Advent we recall God's faithfulness to His people.  Even though Israel failed to keep the covenant made at Sinai and renewed on several occasions afterwards, God always intended to keep the promise He made to the father Abraham that "through your offspring shall all the nations of the earth be blessed."  That offspring was, of course, Jesus Christ.

Millennia of reflection on God's faithfulness has produced many great hymns, but none greater than that hymn most identified with Advent, "O Come, O Come, Emmanuel."  Its lyrics are taken from what are called the "O Antiphons."  An antiphon is a phrase or short sentence that is recited or sung either before or after a psalm or other passage of scripture.

These are not messages we are likely to encounter on the 24-hour Christmas music stations.  So appreciating the enormity of the Incarnation requires silence and meditation from us.  In other words, it requires a proper observance of Advent to slow down and contemplate God's awesome faithfulness at a time when almost everyone else is frantic and stressed out by the holidays.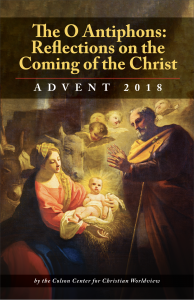 To help you and your listeners prepare for the coming of Christmas, the Colson Center has prepared a free, downloadable booklet featuring each of the O Antiphons, accompanied by a short meditation on their meaning, and quotes from Christians throughout history on the wonder of Advent.  We have it for you at BreakPoint.org/free.
On behalf of John Stonestreet and the Colson Center, we pray this is a joyful Advent season for you.
He has come!