Podcasting, originally known as "audioblogging," first came on the scene back in the 1980s.  In an article called the Audible Revolution, Ben Hammersley referred to the new medium as a podcast borrowing the "pod" of podcast from Apple's "iPod" digital media player; and the "cast" portion of podcast is taken from Radio's "broadcast" term.  Ironically, though the "pod" to which it refers was discontinued, the genre continues to gain momentum.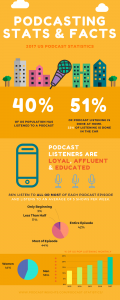 Edison Research has studied and documented the rise of podcasting in America.  In this year's edition of their Infinite Dial research, (you can download the whole report here for free), Edison notes that 112 million Americans have listened to a podcast.   That number is up 11 percent from 2016. Overall, 40 percent of Americans age 12 or older have listened to a podcast at some point.
Additional tale-telling statistics include:
60% of the US population is familiar with the term "podcasting" – up from 55% in 2016
50% of all US homes are podcast fans (Nielsen, Aug 2017)
24% (67 million) listen to podcasts at least every month – up from 21% in 2016
15% (42 million) listen to podcasts weekly – up from 13% in 2016
And this is only the beginning.
After attending the Podcast Movement Conference where we heard from industry leaders and people behind the scenes of some of the most popular podcasts of the day, we'd agree that it seems we're in a golden age of podcasting.  Clearly, as the podcast listener statistics above support, there's little doubt about the growing power of the medium.
While there was much shared at the conference regarding the world of podcasting, from our Podcast Movement Conference recap, here are 6 primary points:
There are three advantages for podcasts (over radio):  space to elaborate, a potential deeper connection with the listener, and a unique listener experience.
The components to a successful podcast?  Story, character, voice, quality and consistency.
An organization's podcast ought to reflect the brand just as much as any other promotional entity.
Podcasts are best discovered via SEO, social media and word of mouth.
Facebook group pages are a key social media platform for podcast audience engagement.
The podcasting audience demo skews younger and differs in their listening habits from standard radio audiences.
(Click here to download our full Podcast Movement Conference recap which includes suggested follow-up to the points above!)
While those of us in Christian broadcasting are committed to terrestrial radio, many of us have launched (or are considering launching) a podcast . . . we should view it as another platform for us to share the life changing message of Jesus Christ! As you consider a podcast for your station or ministry, keep in mind that the goal should be to share content that is entertaining, educational and inspirational — to make listeners think in a way different than they would otherwise.  And, as is the case with radio, when you share content that is changing lives, you'll receive response.
Sharing content that is changing lives is what we're all about and using one more platform should be something we embrace . . . especially one boasting a growing audience such as podcasting!
Save the Date: September 30th is #InternationalPodcastDay – mark the day by learning more about podcasting!  Visit this site designed to celebrate all things podcasting . . . just for fun, take the Podcast quiz and, don't forget to let us know how you did!