This past Sunday, I was able to witness the end of an era as I joined the congregation of Skyline Church to hear Pastor Jim Garlow give his last sermon, closing out 50 years of pastoral ministry.  He said that for 23 years as senior pastor of Skyline, there is one special sermon he intended to preach, but never did.  And, it was one of the most remarkable, spiritually encouraging messages I've ever heard.  You can watch it here.
Jim takes every opportunity to encourage us that we can make a difference for the Kingdom of God.  As a scholar of church history, he shared the amazing story of our spiritual lineage, of all the professing believers who were killed for believing what we believe.  And then said that in all of time—in all of history—there are more believers in the Lord globally than ever before.
He reaffirmed to us that just because our nation is in a spiritual decline, this doesn't mean that God is not at work elsewhere where hungry hearts search for meaning, and search for Him.  Yes, together we can be encouraged in knowing that the Church of God is alive and well!
And after giving what he estimates to be 15,000 sermons, Jim challenged the church and all of us to stay passionate about the Word because the Word is what sustains us through all the journeys of life.
The Next Chapter of Ministry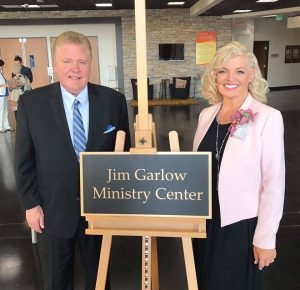 Jim is certainly not retiring, but along with wife Rosemary, is launching a new ministry called Well Versed that is "meeting humanitarian needs . . . differently."  The ministry helps national and international leaders become "well versed" in God's principles for the governance of nations.
The daily radio feature, "The Garlow Perspective" will continue as part of this ministry.  And starting November 14th, listeners will appreciate the special series of Thanksgiving messages from Jim.
Please join us in praying for the Garlows as they pursue this next season of ministry.  And, stay connected with Jim Garlow on Facebook where you'll also see a special video on his life and ministry.