The lazy days of summer are here.
At least that's what they say.  Though, the old adage doesn't always apply.  For instance, big things are happening at Joni and Friends (JAF) this summer!
The month of June means Family Retreat season is moving into high gear, with Retreats for special needs families being held across the country.  At Family Retreats, JAF strives to cultivate meaningful connections with families affected by disability while caring for and encouraging them in a fully accessible camp environment.  They accomplish this through their Short Term Missionaries (STMs), who volunteer to serve special needs families with Christ-like encouragement and friendship!  You can help by visiting the Family Retreat or International Family Retreat page on the ministry website and registering to give a special needs family a week they'll never forget . . . and/or, link to the site on your stations' web site or Facebook page!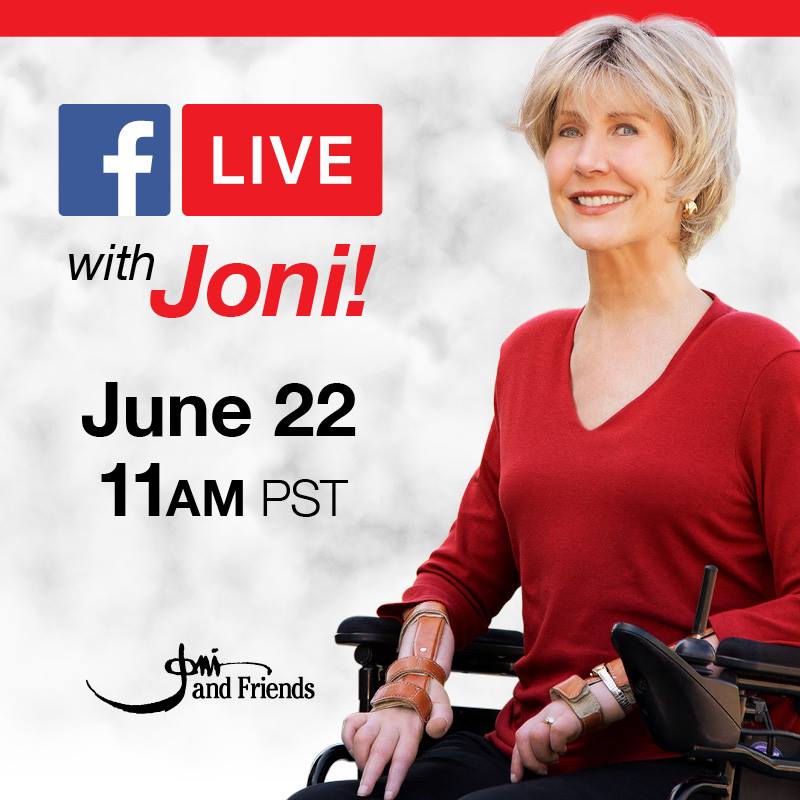 Also, this summer, the Joni and Friends Wheels for the World (WFTW) team travels worldwide to deliver wheelchairs!  First, volunteers, known as "Chair Corps", collect used, but restorable, wheelchairs across the United States.  Second, transportation of the wheelchairs to restoration shops and shipping ports is an ongoing need.  Next, inmates at correctional facilities across the US restore used wheelchairs to like-new condition.  And lastly, each wheelchair recipient receives a custom-fit wheelchair and training in wheelchair use and upkeep. Team members also present each recipient with a Bible and the Gospel message. Learn more about the WFTW outreach on the ministry web site.
And this Thursday, June 22nd , you'll want to mark your calendar to join Joni on Facebook Live at 11:00am (PST) for a special announcement!
"I am thrilled to tell you about an exciting surprise coming up this summer! Preparations are underway here at Joni and Friends as we get ready for a very special event happening in August. I'll be announcing the event this month, and I want you to be a part of it! All you have to do is tune in to Facebook Live on June 22nd, 2017 at 11 A.M. PST on my Facebook page to hear the announcement! Mark your calendars – let me tell you, you won't want to miss this!"   – Joni
So, while there may be sun, beach and longer days these summer months, the days for Joni and the team at Joni and Friends are anything but lazy – thanks for your partnership and prayers!