It was fitting that Al Sanders met Margaret Bascom in a recording studio, Al at the microphone (already an experienced on-air personality) and Margaret at the keyboard where she was often since the age of 3.  Both gifted in their craft, there was much more that created the "spark"—including, above all, the shared desire to live their lives to the glory of God.
Al had grown up in Santa Barbara where his father pastored a small church while working as a gas company repairman.  Margaret hailed from San Gabriel, a family of six children, perpetually also in church.
Once mutually convinced of God's purpose in entwining their lives (it just took Margaret three days to make that decision after Al proposed!), they were married on June 25, 1948, at San Gabriel Church.  Al's father, Joe, officiated and Joseph Barclay was guest soloist.  Following a reception at the Bascom home, Al and Margaret honeymooned in Laguna Beach.
Beginning the Journey
From there, it was off to Chicago to train further, anticipating they would serve the Lord with ELWA in Ethiopia.  When that door closed, however, and with the sudden death of Al's father, they returned to Southern California, eventually invited to return to the Bible Institute of Los Angeles where they'd met.  Though hired as Dean of Men, President Samuel H. Sutherland had in mind a far different role for Al as the experienced broadcaster led the historic Biola Hour ministry, and ultimately all public relations for the college.
Along the way, three children filled up the Sanders quiver—Peggy, Sharon and Jimmy, who enjoyed growing up as the new Biola campus (La Mirada) became a second playground for them.
Scenery Changes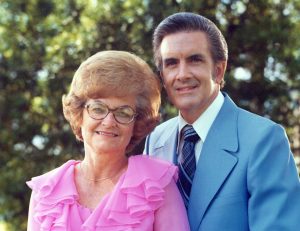 In 1969, Al & Margaret left Biola to begin a new work with Radio Bible Class—initially, it was simply to host the Day of Discovery TV program that launched in Florida.  Ultimately, Al's creative skills were further used as he jumped into producing the telecast each week, much to his delight.  That assignment remained a deeply joyful one for 15 years.
In God's providence, Al & Margaret moved back to Orange County, also returning to the Fullerton Evangelical Free Church where Chuck Swindoll had recently been appointed Pastor.  Fruitful years of ministry followed with Margaret at piano or organ, and Al immersed in Ambassador Advertising Agency, producing Christian radio content—including the launch of Chuck's program, Insight for Living.  In those same years, the Lord used Al's good counsel to help launch the daily Focus on the Family program as well as features with Joni Eareckson Tada, Chuck Colson, Max Lucado and many others.
As they ultimately turned "day to day" operations of the agency over to their kids, Al & Margaret headed to Sunriver (Oregon) for a sweet season of soul refreshment—daily.  Surrounded by spectacular scenery, it's easy to understand why Sunriver became such a special place for them and the family.
Final Chapters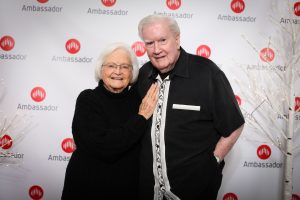 Once again, though, it was SoCal beckoning them closer to kids and grandkids … and Newport Beach became home.  Here they enjoyed renewed friendships and spiritual encouragement from St. Andrews Presbyterian Church.  And mentoring in so many ways the team at Ambassador, sharing Christ's love with neighbors as well.
Scripture tells us that "the steps of a good man [and woman] are ordered by the Lord."  We're grateful for each step that God's given our parents … and particularly the step that is celebrating seventy years of marriage!
To God be the glory!