Last week while attending the National Religious Broadcaster's #Proclaim18 annual convention, I had the privilege of spending time with Nancy DeMoss Wolgemuth and the team from Revive Our Hearts in various meetings.  While we were in Nashville, Nancy met and prayed with many station partners located across the country, from Arizona to New York, and many areas in between.  Here are just a few pictures of our time there . . .
(Pictured left to right: (1) Tom Mathis of ROH with Adam Biddell, Family Life Radio-Tucson and Nancy & Robert; (2) Martin Jones of ROH with Bob & Kay Ulrich, WPEO-Peoria; (3) Soner Tufan and Sarah Wibberley of Shema Media Group-Turkey finalizing plans to translate/broadcast ROH in Turkish!)
Nancy shared some listener feedback noting that after almost 17 years of being on the air, she sees the value of the long-form teaching program and the impact in women's lives as they are "soaking in the Word."  She believes that ROH is helping to grow a women's vertical relationship with Christ so that they know how to live horizontally with others, to help repair broken relationships.
With every message, Nancy said that she seeks to . . .
"TIH—Take it home and MIP—Make it personal."
And, we thank you for your partnership in sharing these messages, helping women to find freedom, fullness, and fruitfulness in Christ!
While at NRB, Nancy also conducted interviews for future programs.  (For program content airing this month, you can download the March Program Toolkit here.)
This was my 23rd NRB convention and while it was a busy time, it was a blessing to catch up with longtime partners in ministry—so many friends who have remained faithful in their calling to spread the Gospel through radio and related communication streams.  It was also a pleasure to greet some new faces who came to the conference for the first time.  For those of us who have been at it a long time, I share this verse and hope it serves as a good reminder and encouragement to you as it does for me . . .
"And let us not grow weary of doing good, for in due season we will reap, if we do not give up." – Galatians 6:9
Until next year!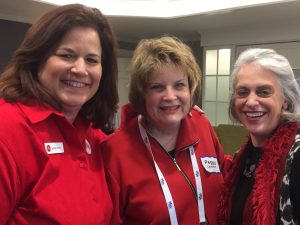 If you were at NRB, please share a highlight by commenting below.