One of the things I like most about NRB are the moments spent with radio and ministry friends.  This year it was my pleasure to coordinate fellowship time with the Grace to You team and many of their partners.  Here's a glimpse of those moments: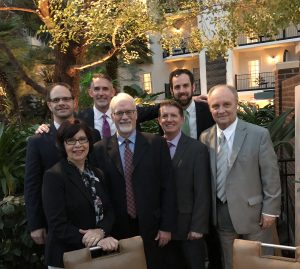 NRB returns to Anaheim, California in 2019.  If you weren't able to make it to Nashville this year, we hope we see you in Anaheim.  We guarantee there'll be plenty to do and much to celebrate as the ministry will mark a milestone in 2019.  More details to come later this year … but mark your calendars for NRB Proclaim 19, March 26-29.
And please mark your calendars for this month's "Grace to You" when John MacArthur's landmark series, The Gospel According to God, airs March 12-29.  Listeners will hear why Isaiah 53 is rightly called the first gospel—foreshadowing the writings of the New Testament.  It's a look at God's love for Israel, and His promises for us.
For all the details (including special offers coinciding with the above series), go here and download the Program Tool Kit.
With Resurrection Sunday coming up April 1, we hope you'll consider airing these classic radio specials from John MacArthur:
One Perfect Life: "Jesus of Nazareth" (25:00). ..a Palm Sunday Special with John MacArthur
Fully dramatized. . .the Scripture used "word-for-word" from the four Gospels-following Jesus through His final week before His death on the cross-is the powerful ministry of Jesus of Nazareth-including an invitation to accept Christ from host, John MacArthur.
One Perfect Life: "Jesus the Messiah" (25:00). . .an Easter Special with John MacArthur
Dramatized throughout in the words of Scripture, we follow those who were present with Jesus the Messiah in His death on the Cross, His burial and glorious Resurrection-with an invitation by host John MacArthur to make Jesus Lord and Savior.
Both are available via FTP.  Be sure to contact me for more information.
In the meantime, though we may not always be able to express our gratitude in person, know we appreciate you and all you do in sharing God's truth with your listeners.